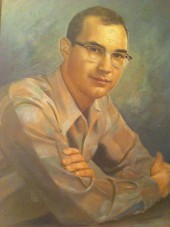 April 26, 2010.
Thoughts I sent to Billy Masters on his column on celebrities, etc.
As I was watching the movie The Proposal on TV last night and saw the scene where the two stars are naked, I of course thought of you and your column.
I wonder what type of male and female stars your readers are most interested in? While your coverage of the White Party is good, I wonder if even the guys who are there all are interested in the same types?
I asked some young women who they find interesting, and they came up with people like Haley something, which I think is good. But do they find sexy women the most interesting or those with personality like Ellen, etc.? And the same with men — I find, for instance, I like men like Ashton Kutcher or Colin Farrell — isn't he the one in A Home at the End of the World?
But did you see The Proposal? I find (I think his name is Ryan Reynolds) has a great body, but he also has a great personality. I think one would want still to be with him after sex.
I wonder if women feel the same way about Sandra Bullock — I like her too. There are some movies I can watch more than once, such as Pretty Woman or The Notebook — again, Ryan Gosling is a great person more than a sexy person — but I'm not sure I will remember the interchangeable people in most TV shows such as 90210, Melrose, etc.
But I immediately like the man in Life Unexpected. And find the men in police shows such as Castle and The Mentalist very interesting.
Just wondered what others think. I of course read you all the time in Windy City Times. Thanks for the news and views.
---