My Life On Ice
(Ma Vraie Vie à Rouen)
Written and Directed by Olivier Ducastel and Jacques Martineau
Released August 5, 2002 at the Locarno Film Festival
Drama (foreign)
102 min.
Review by Stephen O. Murray
June 22, 2003.
---
Because I liked and admired the road movie The Adventures of Felix a lot, I was eager to see the next collaboration by co-writers, co-directors and life partners Olivier Ducastel and Jacques Martineau, Ma Vraie Vie à Rouen, which I translate as "My True life in Rouen."
The title for its American release keeps the first person possessive; it is "My Life on Ice." Neither the French nor the American title is altogether accurate. Most of what is shown in the film does not occur on ice, and fairly substantial parts of it take place outside Rouen, although skating is very important in the life of the main character and he lives in Rouen. Moreover, details of the cathedral carvings recur throughout the film.
The premise of the film is that Etienne [Jimmy (!) Tavares] is given a digital video camera for his sixteenth birthday and sets out to document those around him and his so-called life (the "vraie vie"). It's not a video diary into which he pours his heart. He sets it up to record some of his skating practice but mostly harasses his pixieish mother, Caroline [Ariane Ascaride, Isabel in Felix] and his best friend, Ludovic [Lucas Bonnifait], an aspiring actor and womanizer who, like Etienne, is a virgin at the start of the film.
Etienne has something of a crush on both Ludo and on his history teacher Laurent [Jonathan Zaccai]. Ludo goes through a series of girl friends while continuing to hang out primarily with Etienne, who provides encouragement but has no experience from which to provide any practical advice. Laurent hooks up with Etienne's mother, Caroline, which does not seem either to quell or to exacerbate Etienne's attraction. There is definitely no oedipal drama. There is no indication that Etienne in any sense killed his father, and does not particularly revel in his mother, delightful as she seems to be.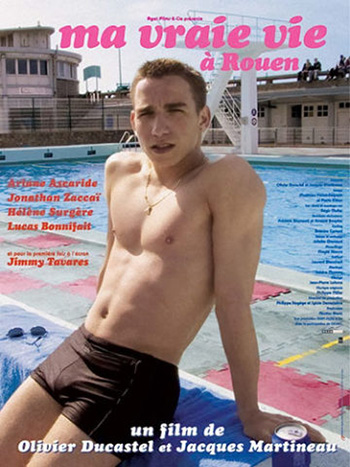 Etienne's life is not particularly unusual other than that he is a competitive figure skater. He is unfamiliar with sex and confused about sexuality. Between being a figure skater and some of what he chooses to film (particularly firemen) and not dating, the audience is likely to assume that Etienne is gay before he does. When he tries to broach the topic with Ludo, Ludo tells Etienne that he really does not want to hear about it and stalks off camera and out of the film.
The film is so naturalistic that audience members wanted to know if it was improvised by or around the actors, but Ducastel said that it was entirely scripted before they began auditioning a lead. He noted that they wanted to work again with Ariane Ascaride but reported that they tested fifty young French skaters. They chose well in Tavares, who is completely believable. (No one asked if he is gay, but he "is" a figure skater, right? But, then, Billy Elliot wasn't gay…)
An argument could be made that the film is about the exhilaration of film-making more than about the confusions of (proto-)gay adolescence. Etienne's filming annoys most everyone (except his unflappable grandmother, played by Hélène Surgère). When the camera is turned on him (off the ice), Etienne also objects to being filmed. The actors play characters very aware of being filmed and not reluctant to show irritation at being filmed. Film-making can be very aggressive play, though Etienne's charm usually suffices to overcome opposition. Ma Vraie Vie exudes some of the joy with a new medium that the new wave film-makers showed when they started making movies in the late 1950s. Digital video cameras are available to many more would-be film-makers and we can expect more movies with people speaking to the person holding a video camera. (The entire film was shot with such a camera and then transferred to film-stock, BTW. Mostly it was not shot by the actors, except in scenes with mirrors that show one filming an other or others.) I just saw another French film (Tarik el Hob, English title The Path to Love) about a young man whose life is changed by what he films (which begins as a video documentary for a sociology class).
After Ludo leaves, there is a more melodramatic story of some opacity, but the film and its protagonist recover and end well. Etienne is not comfortable with his body (like, he is an adolescent, right?), and the nudity in the film is so fleeting as to be nearly subliminal. There is one scene of heterosexual sex, no violence.
Aside from the authentic looking naiveté of a 16-year-old movie-maker, one drawback of the film is that the subtitles are white and therefore unreadable in the opening scene. Fortunately, through the rest of the film they are not lost in whiteness of screen images.
---
published on CultureDose.net • 22 June 2003
©2003, 2017, Stephen O. Murray
---