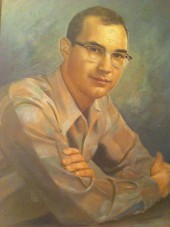 RE: today's Daily Queer News
February 14, 2013.
Dear Tracy Baim:
Regarding  the news that the Associated Press does not want to use the term husband or wife when referring to the married partner in a same sex marriage.
I think the first question should be: Why this new rule?  What is the motive? Is it anti-gay or just semantics?
The next point should be a discussion in the LGBT media, even though this "issue" has been around since ONE Magazine first talked about it in the 1950s and '60s. What do your readers think? What term(s) do they use? Even the AP says that if the two people have used the term, then it may be used.
Is this an issue in such efforts as how the military will cover their married LGBT members? Or in dealing with adoptions? Do we decide on how we feel, or how the public feels?
It had been considered not as an issue of second-class citizenship but as a logical effort to defang the issue, that all married partners be called spouses. There is no one appointed or qualified to decide such matters for all of us. And we do not want to appear to be anxious to copy heterosexuals. This is a minor issue when we consider that the legal and pr battles for marriage, employment, etc. have not been won.
Many of us have no interest in the whole issue, so those who do find this important can wage the battle. But the AP, which has not always been a gay-friendly organization/service, is not the decider—any more than it can decide if the word homophobia is acceptable.
---