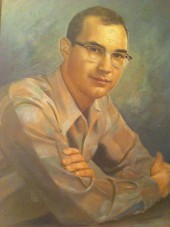 …titled "20 Years Ago, Knox County Commission Unleashed a Wave of Vitriol Against the Gay Community"
June 24, 2013.
Ed White writes:
Besides the main article, there's also a sidebar about me.  Many thanks to Betty Bean and Coury Turczyn at MetroPulse for exploring the 20th anniversary with this coverage! It's a pretty lengthy exploration that really brings out the drama of what happened in a way I couldn't on my website, trying to be the sober historian. It was interesting to read voices of people like our mayor Madeline Rogero as they remember it today.

You can find my historical website here.
This is a good example of how the media could educate on issues of homosexuality. It may seem mainly of local interest—it tells citizens today of what the citizens 20 years ago said and did on our civil rights—but it also is an example of how brave and exploring people like you came to be a part of a successful movement/cause. I am glad they covered you and your work.
And, reread this and even you will feel strange, in this time of everyday bringing "out" a new person, and the "not quite-end" of Exodus, and the coming marriage decisions, and Obama talking about our rights in Germany—this is a different world, but one young people will need to support and work to keep.
---