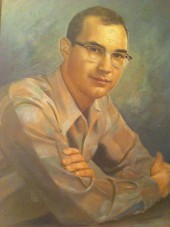 September 16, 2013.
Yes, I was born 9-16-32, here in Shreveport/Bossier, where I live again.
It is cheaper than Los Angeles as I had old family home, overhead costs are low (a driver license for seniors is $12.50 for 4 years, car license is $28 for my 2001 Impala), and life is much better racially (and sexually) than it was when I grew up here in the 1940s.
I left for college/army and then to move to L.A. in Sept. of 1956.
Ann Bannon's birthday was last Sunday, as it turns out, and Jeanne Barney, who wrote "Smoke from Jeanne's Lamp" for The Advocate through the 1970s, celebrated on Friday. In some ways she, as straight, has had a more "interesting" life than I did as a worker at ONE/HIC. Aristide Laurent, who also wrote for Advocate as "P Nutz," would have been 72 yesterday.
We have good memories but need to continue interest in a cause and how the world is going—and have a little fun with it all.
---