Maybe only one hit, but Mart Crowley wrote more plays after "The Boys in the Band"
Essay by Stephen O. Murray
March 21, 2012
---
Born in 1935 in Vicksburg, Mississippi, Mart Crowley responded to the attack on the supposed dominance of the New York theater by gay playwrights writing about heterosexual relationships in the press homosexual panic of 1966 that culminated in "Homosexual Drama and Its Disguises" by Stanley Kauffman (then the New York Times chief theater critic) and its disingenuous call for homosexual dramatists to write about what they know by writing a play about a group of gay friends. It was not easy to mount a production of a play with gay characters even off-off-Broadway, but The Boys in the Band (1968) became a hit, running 1,001 performances (having just seen the run length of Arthur Miller's plays, that is considerably longer even than Death of a Salesman ran).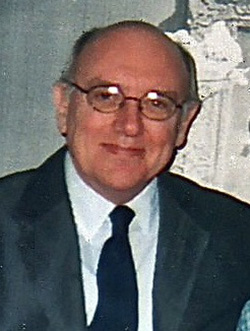 The portrayal of pre-Stonewall homosexuals quickly seemed old hat and even insulting with the explosion of a gay liberation movement and the replacement of gay shame with gay pride in public affirmations. In the provinces where I saw the 1970 movie, at a time when I didn't know any gay people or even than I was gay (though I'd been in a relationship with a man for nearly a year), that there were gay friendship networks was a revelation and sufficiently intriguing to outweigh being scared by the barbs and aggressive unmasking of Michael's party game. Attempting to force facing up to humiliating truths had been very prominent in Edward Albee's Who's Afraid of Virginia Woolf? (the success of which was a prime stimulus to Kauffman et al.) and pioneered in Eugene O'Neill's The Iceman Cometh as well as in plays by Arthur Miller and Tennessee Williams.
The Catholic guilt and self-hatred of the writer from the South living beyond his means, Michael, expresses a wish to stop hating himself (and his kind) less. Crowley was hardest on the character most based on himself, but even Michael has supportive friends, including a caring ex, Donald,
I thought that Crowley was a "one-hit wonder." Instead of a birthday party in Michael's apartment, the gathering in its sequel, The Men from the Boys, is a "celebration of life" (memorial) for one of the friends who has died-not of "it" but of pancreatic cancer. Having recently rewatched the 1970 Boys in the Band movie, I am/was somewhat surprised that the quite disparate characters are friends, although it requires even more suspension of disbelief that the men now in their early-60s remain friends (or, indeed, alive, especially knowing that all but one or two of the gay characters in the original cast, which was also the movie's cast are dead).
As in the first play, the party on the deck is driven back indoors by a storm. There is needling, though nothing like the devastating party game. And some truth not previously known to Michael (who has dried out) emerges near the end, though Harold again exits with "Callya-tomorrow." In addition to the boys of the 1960s, there are some younger ones, including a Filipino (who masquerades as Vietnamese one) and a skittish protégé of Michael's who dismays the others. Men is not revelatory as Boys initially (for a brief moment!) was, but it is well-constructed. Given the passing of time and the occasion of a wake, there is wistfulness, but the characters are still connecting and trying to support each other in a hostile world. Michael recalls (the 1960s and earlier) when "I hated myself for being gay. Then I came out and other people hated me." It is still in his view "a shame never to have made a success of love with someone. [But] for me, it's always been better to travel hopefully than to ever arrive." And Harold doesn't want anyone he could get, though some of the other characters managed long-term relationships.
From the documentary Making the Boys, I knew that Crowley wrote a play that flopped in 1970, Remote Asylum, which though better than Tennessee Williams's The Milk Train Doesn't Stop Here Anymore (turned into a really awful movie, Boom!, with Elizabeth Taylor, Richard Burton, and Noël Coward) is similarly focused on the dissolution and death among the rich in a remote location (a Spanish island). I'd guess that too much of the play is in Spanish for Anglo audiences, and I found it difficult to get into though there is some payoff. The original cast starred William Shatner and Anne Francis (with a silent Arthur O'Connell) in L.A. BTW, the play has a gay character named Michael who is maintained by straight friends (as Crowley was by Natalie Wood and Robert Wagner, not that I see them as the models for Dinah and Tom in the play).
There was also a 1973 play that received better reviews, A Breeze from the Gulf, a seeming memory play (à la Long Day's Journey Into Night? Well lacking the unity of time and space, extending over then years, but having an incipient writer who escaped, at least physically,  his family). Michael, an only child is 15 at the start. His mother (more Amanda Wingfield or Blanche Dubois with a living husband than Mary Tyrone) wants magic, in particular a Mississippi mansion (not an antebellum one) with a ballroom, though she is antisocial, and addicted to painkilling drugs (like Mary Tyrone). The father (like Mary Tyrone) is something of a Catholic fanatic. Both he and his son (decades apart) were molested by one of his relatives (before the start of the play). And both parents smother their delicate (asthmatic) son, who struggle to break free, moving to Manhattan after college.
The role of Michael aging from 15 to 25 and gaining some self-confidence seems a very difficult one with the many scenes not providing time for makeup of costume change, and the parents also have to deteriorate. The play reads well. And it must have played well, since it received a Los Angeles Drama Critics Circle Award nomination for Best Play.
My favorite of the plays, one I had not known existed, Avec Schmaltz, lacks a Michael, a critical version of Crowley, though the son Josh (played by Kiefer Sutherland in the original production in 1984) unhappy about his parents and their new partners is not light years from the Michael of the Breeze. It is very, very easy for me to imagine Marsha Mason as his mother, Kit, who still loves Manny (James Naughton in the original cast) but is not going to repeat the mistake of marrying him. There's also a Ralph Bellamy-like suitor, Nick, and out on the Left Coast where the musician Manny has found success and a Hollywood lifestyle. There is a gay pal, Colin (who was played by Kevin Spacey). The play seems very much a Marsha Mason vehicle, though I don't even know if Crowley had her in mind writing it. (I do know she was recently divorced from playwright Neil Simon, who had supplied her earlier juicy roles, including the dumped woman with the smart-mouthed offspring in The Goodbye Girl.)
Differing from Donald Spoto in the introduction to The Collected Plays of Mart Crowley, I do not see Avec Schmaltz as being "about" the dissolution of a sterile family. That would better fit A Breeze from the Gulf, though I'd say that is more about escaping the multiple pathologies of a pair of parents vying for the son's affections.
The play I like least, For Reasons that Remain Unclear, dredges up more long-ago sexual abuse, builds up very slowly to non-catharsis. As with Remote Asylum, there is IMHO too much of a server (a Roman waiter rather than the Spanish servants on the island mansion).
So, there is a more substantial body of Crowley work than I knew of until very recently. I wish I'd seen Avec Schmaltz with its original cast (I did see the original cast of The Boys in the Band in the movie version).
No hits, but not all misses, either.
---
first published by epinions, 21 March 2012
©2012,2017 Stephen O. Murray
---