August 21, 2013.
David Williams of the Williams-Nichols Collection at the University of Louisville asks:
From May to at least August 1965 there were two different versions of ONE Magazine.  One was edited by Don Slater and the other by Richard Conger. We have both versions of the magazine during that time. My question is: How long were the two different versions published? Did it end in August 1965, or were there different editions in  September, October, and perhaps November 1965?
Our reply:
Hello David!
Thank you so much for contacting us on this question.
When ONE, Inc., divided in the spring of 1965, Don Slater and the other editors of ONE moved the entire operation to a new location. Even though Slater had emptied ONE's office completely, Dorr Legg (as "Richard Conger") was still able to continue to produce and distribute ONE magazine (much, of course, to Slater's dismay). Legg said that he had committed ONE's mailing list to memory, but that's just silly. My best guess is that Legg anticipated some sort of brash act by Slater (Legg, it seems, was moving to kill ONE magazine entirely in order to grow his Institute) and had managed to have a copy of the list secured off site. (ONE's mailing list was a highly coveted and much protected, so this is actually a very big deal, a confession Legg could never publicly make).
Soon after the division, a judge determined that Legg would keep the office and rights to the name ONE, Inc. Slater retained his materials —including the organization's archives — but had to stop doing business as or representing himself as ONE, Incorporated.
This was intended to be a tentative arrangement, but even after Legg continued his fruitless and expensive lawsuit against Slater for two more years, this is how things remained.
You will find that the content of the two first (dual) issues is similar to identical. Some of the work was by Joe Hansen, who was devoted to Slater and would never have consented to have his work printed in Legg's magazine, yet there it was. How Legg obtained that content remains a total mystery to me.
You can see the four covers of Slater's magazine (clearly subtitled "The Homosexual Viewpoint" here.
I have started to post content, but work is proceeding slowly since I can only do this on a voluntary basis at the moment. As you can see, the magazine changed its name to Tangents in October, 1965. This, in a way, makes Tangents the "true" continuation of ONE magazine, with a great majority of ONE's editorial and writing staff continuing on in this new venue.
The July issue of ONE features a play on the male/female symbols that was designed by Joe Hansen's wife, Jane, and remains HIC's logo to this day.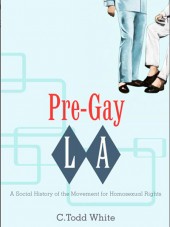 I have been talking to several people about bringing Tangents back as a biannual newsletter, I hope becoming quarterly in time. I will keep you posted on the progress there as this could be happening very soon.
I hope this helps to clarify. The details of this can be found in my book, Pre-Gay L.A.: A Social History of the Movement for Homosexual Rights, published by the University of Illinois Press, if you are interested in learning more about this history.
Best wishes,
Todd
---