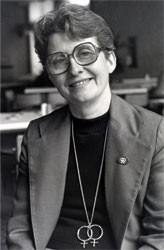 Reader At Large
by Barbara Grier writing as "Gene Damon"
Photograph courtesy JEB[1]Barbara Grier image ©2017 by SEB (Joan E. Biren.) Used by permission.
Printed in the November 1965 issue of Tangents
pp. 26–28
---
Robert Sale's intentionally non-literate book, The Oscar (Simon and Schuster, 1963, Pocket Books, 1964) follows the ill-starred lives of five Hollywood stars seeking the Oscar as Best Actor of the Year.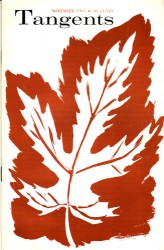 The five are quite a crew of less than lovely juvenile delinquents; all are ready to cheat anyone or anything. One is an alcoholic; another a psychopathic "super-patriot."
As sometimes happens, curiously, in a novel like this, the homosexual is the least reprehensible of the lot possibly because the author feels this "ultimate sin" to be a big enough black mark in itself. Be that as it may, Brett Chichester, faintly effeminate English actor, is far more victimized than victimizing on the rocky road to the Oscar. Two of the characters are embarrassingly close to the line called libel. The book, soon to be made into movie, has substantial homosexual element in the plot.
"The Woman Across the Street," by May Dikeman, in Best American Short Stories, 1964, edited by Martha Foley and David Burnett (Houghton Mifflin, 1964, Ballantine, 1965), has several peripheral male homosexual characters and some "witty" cracks to recommend it.
Bill Gunn's novel All The Rest Have Died (Delacorte, 1964) amply demonstrates one more facet of this much-talented young Negro actor, director and playwright. It is a novel about Negroes, but not a Negro novel. Rather it is about a young man coming-of-age, and the obstacles he meets and beats.
The color line does come up in the rise of Barney Gifford to fame as an actor; but it isn't out of proportion. Barney's life, his rise, his ability as a lover and as a man are closely linked to the violent love he carries with him for the memory of his dearest friend, a male cousin, who died violently and unnecessarily. Part of Barney's adjustment involves his learning just what these feelings mean and finding a way to live with them and remain whole and content. It is subtle and very well done.
The latest John O'Hara collection, The Horse Knows The Way (Random House. 1961), has three pertinent stories and minor references in several other stories. "The Staring Game" features two women discussing a boyfriend from the past whose sexual orientation is doubtful, to say the least.
This is a reverse twist on a previous O'Hara story, "Jurge Dulrumple," in which two lesbians discussed a hapless male suitor. "The Jet Set" has a male homosexual theme (as something of a surprise) and "Clayton Bunter" concerns the happy ménage à trois made up of Clayton, his wife, and his sister.
A recent paperback, Goodbye Charlie, has a most comical history. In December 1959 the play, Goodbye Charlie, by George Axelrod, opened at the Lyceum on Broadway. It starred Lauren Bacall as "Charlie."
Charlie is a Don Juan who gets killed by an outraged husband for just cause and returns to earth as a beautiful woman in the flesh and as good old licentious Charlie inside. The love interest is supplied by George, Charlie's best friend in his/her former life. The play closed in March, 1960. One reviewer commented that the "audience visibly recoiled from the possibility …." Now, in 1964, the play has been made into a movie and novelized by Marvin H. Albert (published by Dell, 1964) to tie in with the movie release. For what asinine reason we cannot imagine, Debbie Reynolds is grossly miscast as Charlie.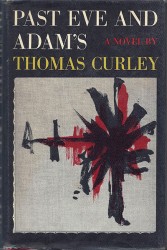 Close dependent interpersonal relationships between three young men form the plot of Thomas Curley's long novel, Past Eve and Adam's (Atheneum, 1963). The overt homosexual element is relatively minor taken out of context but the overall involvement and the cause and effect results place this novel high on the list of required reading for those interested in the etiology of homosexuality. Philip Fay, the novel's tortured central character, is a masterpiece of characterization; and his battles over his involvement with Gerald Weems are memorable.
"Wars kill a long time after, don't they?" Gerald Maune writes to his psychiatrist just before taking his own life in George Steiner's novella, Sweet Mars. This is the longest of three novellas (published together in) Anno Domini (London, Faber and Faber, 1964, and N.Y., Atheneum, 1964). Gerald, however, is less a victim of the war and more a victim of his own inability to live in the present. He continually returns in his mind to his public school and college years in England, his romance with Reeve, a sun-streaked day with a boy in a native bazaar, his halcyon week with a Polish soldier, etc. On the other hand, he fights against his homosexuality; and Reeve who really loves him, tries to force him to face himself, and Gerald panics and kills himself. The other two novellas in the collection, while not pertinent, are male-oriented and enjoyable. Mr. Steiner writes very well.
Another man who writes well, John Braine, is definitely less rewarding. For the reasons that make George Steiner a good writer, Mr. Braine cannot draw people, and his figures are all sticks of wood in The Jealous God (Boston, Houghton Mifflin, 1964, 1965). The former husband of the girlfriend of the hero in this tale of woe is a homosexual (who has wisely absented himself from the scene) and the roommate of the girlfriend is a lesbian (in love in vain, of course). The poor former husband makes an appearance to supply the red herring ending of the book. Only for the patient reader, with a low supply of material.
Continuing examination of older collections of short stories seems to be unendingly potentially rewarding. Recently, in New Campus Writing=2, edited by Nolan Miller and Judson Jerome (Putnam's, 1957). I found the story "Saul," by Michael Mason, all about the subtle campaign "Susi" Wood conducts to win the favors of his hero, Saul. Although treating a very effeminate boy, it is well done and no "stereotripe" performance.
On the other hand, Ruth Moore, noted for her Maine settings and and women's novels, has dipped into the most exaggerated untruths in her novel, The Sea Flower (Morrow, 1965). Tch! Tch! Miss Moore, for making that old error: confusing the homosexual male with the pervert.
No reviewer likes to admit bafflement, so the best course might be to fail to mention this novel. But ignoring Francois Billetdoux's A Man and His Master (Hill and Wang, 1961) might deprive some more discerning soul of the opportunity to figure it all out. It is about Fernand, and his consuming involvement with Carnavaggio, to the extent that Carnavaggio becomes Fernand's master, and Fernand, for example, even has to bathe him. It is said to be Gallic humor; but my sense of humor apparently doesn't read French.
A very major book, quite overlooked, is We Think The World Of You, by J. R. Ackerley (London, The Bodley Head, 1960; N.Y., Ivan Obolensky, 1962). The reader is introduced to Frank, the kindly middle-aged narrator, who loves Johnny, the only son of a scabrous family. Johnny is a beautiful indigent specimen of worthless young manhood, and Frank, quite helpless where Johnny is concerned, is led into caring for the "family" while Johnny serves a prison sentence for stealing. For his labor, he is rewarded by the phrase, "We think the world of you." Depending upon individual experiences, you will laugh or cry over this one.
---
Image: Barbara Grier, c. 1972, by JEB. Courtesy of the San Francisco Public Library
 Content ©1966, 2016 by The Tangent Group. All rights are reserved.
---