Although Kent State professor of French literature Richard M. Berrong presses a view of the sexual orientation of French writer Pierre Loti (né Julien Viaud, 1850–1923) as being to his own sex, there does not seem to be any evidence that he had sexual relations with any of the series of ultra-masculine uneducated hunks he more or less adopted. Moreover, he costumed himself in very flamboyant garb, some of it female, and had himself photographed in drag.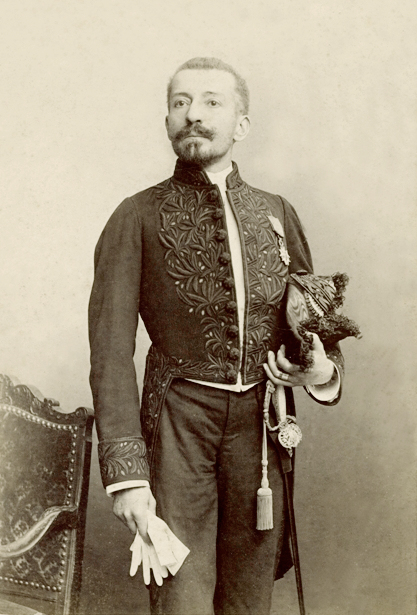 Viaud was a career naval officer, and took on some of the hunks whose bodies enchanted him as adjutants, as Pierre the naval officer narrator of My Brother Yves, did the hulking Breton sailor Yves. While he was writing it, Loti himself wrote a friend that the novel "represents the person whom I love most in the world" (that is, Pierre Le Cor) and the narrator has no heterosexual relations or relationships. Still, there is nothing in the way of physical love between Pierre and Yves. Yves marries and reproduces, but spends very little time with his wife, even when he is "home" on leave between long voyages.
The fictional Pierre insinuates himself into Yves' family as a patron, protecting Yves from the consequences of his (homosocial) binge drinking. First Yves's mother, then his wife, ask Pierre to look out for Yves, something Pierre, who is obsessed with Yves and very admiring of his muscular physique "like a Greek god," is eager to do.
"Frère Yves" became a slang expression for a male favorite, but no one seems to have written of sexual relations between Loti and anyone. (Loti's journals, a main source for Berrong were expurgated by Loti himself, and by his family after his death). Viaud fathered a sickly son by a woman he married and avoided (even more than Yves does his wife) and two more by a woman, in hopes of siring physically fitter sons (whom he never legally acknowledged). He did not live with this mistress, either.
Loti has been taken as a prime example of "Orientalism"/exoticizing the Other, though Berrong makes clear that he regarded French colonialism very negatively and was nearly cashiered for writing about the injustice of what the French were doing in Southeast Asia. Though for a time he had a Turkish male protégé (along with a Turkish mistress), his type was clearly northern European males with lots of muscles and little or no education: Yves and Yann, the Iceland Fisherman of Loti's other early bestseller, and their original model, Pierre Le Cor, were Breton, and representatives for Loti of Celtic (ultra)masculinity. They were what later queens would call "real men." The very short Viaud aggressively took up body-building, though the results did not approach the musculature that came naturally to Le Cor (and later beloveds). If, as Loti said, his "greatest ambition in life has not to get old," that was also doomed to failure.
Berrong is concerned not only with the enigma of Loti's sexuality, but with his ambitions as an artist to do in words what Monet did with paint (impressionism) and in valorizing the "uncomplicated" lower class in conscious contrast with the naturalism of Émile Zola (whose campaign to be elected to the Académie française was defeated by Loti's). Loti socializing in Paris with the circle of Edmond Goncourt and Alphonse Daudet (that also included Henry James, who considered Loti "a man of genius … one of the joys of the time").
Many of Loti's books were popular (best-sellers) and admired by other writers, including Marcel Proust and Willa Cather. The latter wrote that "she "would swoon with joy if anyone saw traces of Loti" in her work,
Berrong finds merit in many Loti books, makes a case for feminist aspects along with his clear anti-colonialism. I find the recurrent invocations of storms, the lack of plot or of character development in Iceland Fisherman and My Brother Yves tedious, the ethnography of Breton culture very thin. Berrong made his case sufficiently strong that I read those novels about Viaud's/Loti's homoeroticism, but could not recommend them to others. But I definitely could recommend Berrong's biography even to those who have not heard of Loti (let alone read any of his work). It has many striking illustrations, not least of Loti posing as various kinds of persons.
©2019, Stephen O. Murray