Colin Turnbull's 1961 The Forest People made a lot of money for Simon & Schuster and himself. It was taken up by many people skeptical of Anglo-American culture, as was Castaneda's The Teachings of Don Juan. Many anthropologists thought the portrayal of the Mbuti too good to be true, that is, very romanticized along Rousseau Noble Savage lines (what I have called the "ethnoromantic temptation" for those uncomfortable in their home culture).
In The Mountain People (1972) Turnbull's exaggerations were in the opposite direction, a Hobbesian state of nature with all against all. The desperately impoverished and displaced Ik were the antithesis of T's beloved pygmies. Neither book is sound and much of the pathography of Mountain People that shows Turnbull to have been inhumane, more than narcissism. He even seriously proposed ethnocide: taking each person and separating him from any other Ik, His hatred for the people he studied shocked other anthropologists. Fredrik Barth led criticism of Turnbull's project and book. Later fieldwork by Bernd Heine showed much that was wrong in Turnbull's screed against the Ik.
In NYC in 1959 Turnbull (1924-94) had hooked up with African American Joe Towles, whom Turnbull relentlessly pushed to become an anthropologist and then relentlessly pushed appointments of Towles wherever he went. I don't think Towles wanted to be wanted to be a novelist or an actor Though producing little, Towles was far more sympathetic to the Ik and tried to help them, not just observing and condemning as Turnbull did. (They went on the road arguing about the Ik, while the book became the basis for a play by Peter Brook that toured the world and spread Turnbull's views of the Ik, which btw appealed to ethologists and sociobiologists eager to show humans as aggressive.)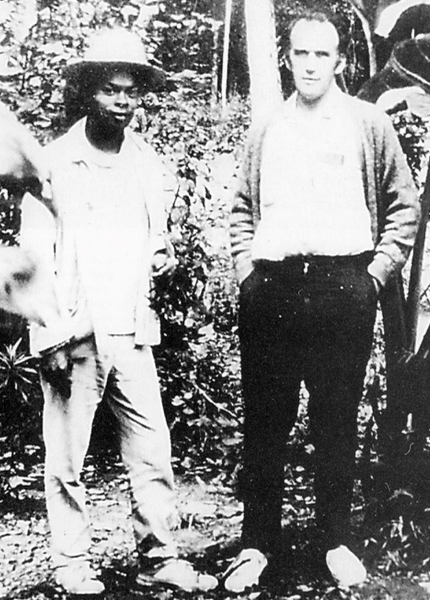 In my view Turnbull had no vocation for science. His failure to mention, let alone credit those with whom he was in the field is reprehensible in my view, and his final turn, after nursing Joe through a slow AIDS death (1988), Turnbull gave all his money and future royalties to the United Negro College Fund and became a Tibetan Buddhist monk (with no diminution of narcissism in my view).
Prolific anthropologist Roy Grinker, who had done fieldwork on the Mbuti, explored Turnbull's character and work in an excellent biography, In the Arms of Africa (University of Chicago Press, 2001). Grinker stresses that Turnbull felt unloved, as more than a few other youth sent to boarding school have/do. This does not exonerate Turnbull's romanticizing the Mbuti (and, later, death-row inmates in the US) and pathologizing the Ik, or eliding the help of others.
I think Grinker handles the account of the long public gay relationship, accompanied by unpublic promiscuity (especially Towles') very well. Grinker wrote insightfully about the challenges, including that of a straight man writing about a gay man, at https://web.archive.org/web/20071217194239/http://artsci.wustl.edu/~anthro/courses/306/GrinkerTurnbull.html
Before starting the biography, "Like many other anthropologists, I assumed that Turnbull's characterizations of Pygmy life were romantic and somewhat fictionalized." That was accurate, though Grinker became more sympathetic to why Turnbull did what he did (verging on forgiving all because Turnbull had an unhappy childhood).

References
Barth, Fredrik. 1974. "On Responsibility and Humanity: Calling a Colleague to Account." Current Anthropology 15:100-102.
Murray, Stephen O. 1981. 'Die ethnoromantische Versuchung.' Der Wissenschaftler und das Irrationale 1:377-385.
Weber, Max 1917. "Science as a vocation." In From Max Weber, tr. and ed. by H. H. Gerth, and C. Wright Mills. New York: Free Press, 1946.
©2019, Stephen O. Murray
[This posting is dedicated to the memory of Ed Grover, who gave me the book long ago. My delay in reading it was due to my distaste for
The Mountain People
.]