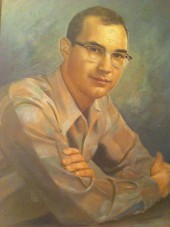 October 6, 2010.
Perhaps I don't need to worry, but I do, that the people in our community/movement are unaware of all the great diversity of people, ideas, services we have.
I sure don't see all the newspapers, or know of what is going on at all the centers or what the LGBT journalists are doing or the LGBT medical doctors, etc. And even with the internet and Gayellow Pages, do young people know what is there for them?
And do the leftist LGBT people in San Francisco know about the middle-of-the road LGBT people in Kansas? Who among us reads both Liberty Press and Ultraviolet? Many people see the major city newspapers, such as Washington Blade, Philadelphia Gay News, Windy City Times, but what about small town and narrow interest publications and resources?
I think it is interesting to know what is in Kansas right now — it sure wasn't there a few years ago, and this is a a sign of how well our community/movement is doing. The two universities are very active in LGBT issues, several have resource centers, and Wichita State University now has queer courses. There is an LGBT archive at KU. And a professor at KSU has written a book exploring Two-Spirit literature in northwest native groups (Lisa Tatonetti,  Queering American Indian Literature: The Rise of contemporary Two-Spirit Texts and Criticism). She co-edited Sovereign Erotics: A Collection of Contemporary Two-Spirit Literature, which the University of Arizona Press will publish Spring of 2011.
And Wichita has the Tallgrass Film Festival, and other cities, such as Shreveport, now have such events. And I have never heard of a comic strip mentioned in Liberty Press, "Little Scottie" by Scott Winer and Todd Pickrell. It is reported that now the Wichita Eagle publishes same-sex wedding announcements — poor Fred Phelps. But good for him, not so good for us, Professor Bob Minor, of Minor Details, is retiring at KU (Dr. Minor is a Professor Emeritus of Religious Studies at the University of Kansas, after 33 years) but will continue his good work.
Meanwhile, in San Francisco, LAGAI_QI's UltraViolet says that an organization called Against Equality is hitting the road to talk bout the over emphasis in the community/movement on marriage. They have an anthology, Against Equality: Queer Critiques of Gay Marriage, that has articles by such people as John D'Emilio, Kate Bornstein, Yasmin Nair, and others. The "tour" began in Portland ME, October 2. They are going to Washington D.C. and Chicago (October 9th) and will cover the West coast this winter.
There is discussion of why burning the Koran is not  new thing to "Christians." And another "alternate view" is in the review of the movie, The Children Are All Right, saying it is too stereotyped and not a valid portrait and those making it should have done a better job. They seem to think Palestine is being mistreated by Israel. In "Pink Summer" they say 150 queers and allies protested the opening night of the San Francisco LGBT Film Festival (Frameline) because the Israeli consulate was a sponsor. There was also a "Brass Liberation Orchestra" to liven things up.  Sounds like a Phelps production. There was also a Queers Against Israeli Apartheid in Toronto. I think they also oppose the military, I think — hard to tell.
There is also an article on the AIDS issue about vaginal gel — I think based on trails in South Africa. It does cover the issue reported earlier in OutSmart, that a study found that commonly used lube products damaged rectal cells, possibly making users more vulnerable to HIV infection.  Dry sex is not good, so look for a lube that is isotonic or silicon based and is compatible with condom use.
While we all have limited time, it would help us psychologically maybe to glance at all these good publications around the nation.  We are truly everywhere.  And have many views on sex, politics, solutions, etc.  By communicating, we all will be better prepared to deal with our enemies.
---