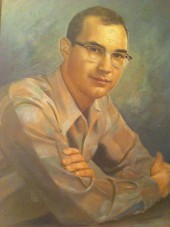 September 7, 2010.
If you were told a religion or "faith" tells its followers that you are evil and should be killed, it should be logical to fear and hate that religion.
I believe that Islam says that and therefore my common sense guides me to only one action — to demand that all religions in America follow the U.S. Constitution and to support separation of church and state, which was the intent of the founders.
Other religious groups have faced the same issues Muslims are now facing, currently forced on them by the proposed mosque in New York City. Catholics faced such issues, no matter what their nationality, when first coming to America. And the issue in a sense was settled when President Kennedy sought the office and explained how he viewed the issue of following the laws of the nation — not changing them — rather than the dictates of a foreign power (the Pope).
Intelligent Americans, no matter their views on religion, know that too often religion is a dividing force rather than a uniting one, and that fanatics in religions need to be controlled by the rest of followers when they misuse the religion and misinterpret the "sacred" books to do harm to others.
An example in America is how Protestants in the southern part, mainly, used the Bible to support white people owning black people/slaves, leading to a Civil War, and then again using their Bible to support harm to black Americans by joining the KKK. The sin was not only commission but omission, since other Christians did not speak out against this evil.
America is not fighting a religious war in the Middle East — it is fighting a cultural war in which fanatic Muslims have attacked us. The issue of the mosque in New York has led charlatans, in the name of Christianity, to exploit the issue of religion-and it is necessary for true Christians to speak out against such fanatics, who would, for instance, burn books, including the Koran.
In America, the majority does not decide civil/equal rights. But it has taken all these years to come close to living this ideal, and Muslims need to understand this as well as Mormons, who seek their rights but want to deny these rights to homosexual Americans. At the start, the nation's founders had to compromise, such as allowing slavery in the Constitution, but it was clear to them and everyone since — except those who personally benefitted from slavery — that it would have to go if we were to live up to the ideal of all men being created equal.
And Christians have to admit that the Bible does allow for slavery, but that does not make it right. The ideal promoted by the Bible leads to the end of slavery.
It is not asking too much of Americans today, living in the greatest nation on earth — and free to leave if they don't agree — to work to preserve and defend our values and to make this a more perfect nation, one that we have because millions of Americans since the founding have given their lives to defend.
---