Strange Marriage
by Joseph Hansen (as James Colton)
Published by Argyle Books, Los Angeles, CA
Published 1965
Gay Fiction (romance)
176 pages
Review by Barbara Grier as "Gene Damon"
---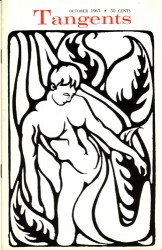 Readers will be delighted to know that James Colton [Joseph Hansen] has a new book out, after the reception of his last years title Lost on Twilight Road (National Library Books, 1964). Strange Marriage, though an unfortunate sounding title, is a very accurate one, for this indeed tells of an unusual and successful marriage which comes about through a series of uncommon circumstances.
Randy Hale, aged 24, awakens on the morning after losing his first permanent lover, Corky, faced with finding a way to live without love for the first time in his life. For life has been good to Randy; his father loved him well, and although he died when Randy was 12, there was his mother, fat and jolly, who lived until Randy was 21. Someone had always been there to take care of him, and Corky had worked beside him in Randy's truck stop, Hale's Cafe, in Pepper Tree, California.
By accident Randy becomes involved with the lives of several people: a lonely salesman, who has loved him secretly; a young waitress, the victim of a bad marriage, and her young baby boy; and Ruth Anders, Assistant Principal at Pepper Tree Junior College. Ruth is older than Randy, more self-confident, and though wholly heterosexual, she is boyish enough to attract the suddenly lonely Randy.
The steps they must take to marry, Randy's adjustment to marriage, his first flights from the confinement and lack of physical release necessary to him, and his final best step, the reconciliation of his marriage and his homosexuality into a workable and adult life, make up the plot. Mixed with this already complicated theme are the stories of several peripheral characters and it is one of Colton's talents that these people seem as vital to the reader as do Randy and his problems.
As in Lost on Twilight Road, Mr. Colton lapses into melodrama to bring home his philosophies, but that adds as much to the excitement of the book as it detracts from the strength of it. He is an excellent writer, and he shows signs that he will be even better in years to come. For now he is as entertaining as Jay Little and considerably more talented. His casual natural handling of the scenes concerning sexual contact is particularly good, since so many writers adopt an "Oh! Look At Me, and What I am Talking About Now" tone when they enter the bedroom, while Mr. Colton is as able to discuss romantic love-making as he is a casual encounter in a movie house john. He is also very shy of the silly symphony polemics which pop up far too often in current fiction. His homosexuals are as ordinary as his heterosexuals; in itself this is a step forward from the purple-past days of not-so-long ago.
---
 ©1965, 2017 by The Tangent Group. All rights reserved.
---