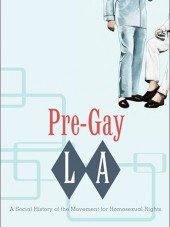 Known Pseudonyms of Homophile-Era Activists and Authors
by C. Todd White, Ph.D.
Compiled through research for Pre-Gay L.A.
---
From the first days of the clandestine Mattachine Foundation through the mid 1960s, many homophile-era activists wrote under pseudonyms.
While this was in part for protection, it also served to magnify their apparent numbers, especially in the early editions of ONE magazine.
Some of the magazine's first contributors, such as Dale Jennings, wrote some of their most incendiary commentary under a nom-de-plume in order to ignite and inspire controversy. This proved problematic when some men, most notably Bill Lambert (aka W. Dorr Legg) wrote under a woman's name (see the resignation letter of Stella Rush). The ensuing controversy drove a wedge between the men and women of ONE from which the organization would never recover.
Some of the brave pioneers of the movement, such as ONE's longstanding editor Don Slater, published under their real names from the start. Ironically, when Joseph Hansen began writing for ONE in the 1960s, Slater refused to let him use his real name; thus James Colton was born.
Please contact C. Todd White at https://www.tangentgroup.org/wp-content/uploads/1997/02/HICArchivesFI-1.jpg@tangentroup.org to report errors or omissions from this table.
Pen Names and Aliases
| True Name | Pseudonym |
| --- | --- |
| ?, Marylin | Hunter, Alison |
| ?, Nancy | Hunter, Alison |
| Aldrich, Ann | Packer, Vin |
| Bernard, Fritz (Dr.) | Servatius, Victor |
| Berquist, Roy | Berlinson, Rolf |
| Bird, Merton L. | Byrd, M. |
| Bird, Merton L. | Rousseau, Guy |
| Boyfrank, Monwell | Boy Frank, Manuel |
| Corbin, Joan | Elloree, Eve |
| Coron, Gregory | Carr, Gregory |
| de Crayencour, Marguerite | Yourcenar, Marguerite |
| Eyde, Edythe | Ben, Lisa |
| Frisbie, Fred | Mortenson, George |
| Fugaté, James | Barr, James |
| Gibson, Jack | Colfax, Jack |
| Glover, William E. (Billy) | McIntire, W. E. G. |
| Grier, Barbara | Damon, Gene |
| Hansen, Jane | Race, Jane |
| Hansen, Joseph | Colton, James |
| Hay, Henry "Harry" | Harrison, Joseph |
| Hay, Henry "Harry" | MacDonald, Eann |
| Horvath, Alice | Hunter, Alison |
| Ingersoll, Ross | Martin, Marcel |
| Jennings, Dale | Lalo, Elizabeth |
| Jennings, Dale | K., Heironymus |
| Jennings, Dale | Winters, Jeff |
| Jennings, Dale | Noone, R. |
| Jung, Rudolf Alexander | Burkhardt, Rudolf von |
| Kepner, James | Golovitz, Frank |
| Kepner, James | Arnold, Jane |
| Kepner, James | Arnold, John |
| Kepner, James | Pederson, Lyn |
| Kepner, James | McIntyre, Dal |
| Lambert, William (Dorr Legg) | Lane, Wendy |
| Lambert, William (Dorr Legg) | Conger, Richard |
| Lambert, William (Dorr Legg) | Cutler, Marvin |
| Lambert, William (Dorr Legg) | Barnes, Hollister |
| Lambert, William (Dorr Legg) | Hunter, Alison |
| Marchant, Anyda | Aldridge, Sarah |
| Maxey, Wallace de Ortega | David, Wallace |
| McNeal, "Mac" | Neal, K. O. |
| Meaker, Marijane | Packer, Vin |
| Meaker, Marijane | Aldrich, Ann |
| Newton, Robert (Bob) | Earl, Robert |
| Onthank, Wilna "Willi" | Frederic, Dawn |
| Perdue, Betty | Jackson, Geraldine |
| Peters, Arthur A. | Peters, Fritz |
| Pincherlo, Alberto | Morovia, Alberto |
| Routsong, Alma | Miller, Isabel |
| Rowland, Chuck | Fry, Don |
| Rowland, Chuck | Freeman, David L. |
| Rush, Stella | Radick, Ellis |
| Rush, Stella | Russell, Sten |
| Sagarin, Edward | Cory, Donald Webster |
| Samson, Chuck (Chet) | Thompson, Chuck |
| Sandoz, Helen | Cat, Ben |
| Sandoz, Helen | Sanders, Helen |
| Slater, Don | James, Gregory |
| Slater, Don | McIntire, Dal |
| Slater, Don | Colfax, Leslie |
| Steinert, Rudolph (Rudi) | Stewart, Rudy H. |
| Tate, Velma (born Velma Young) | Davenport, Francine |
| Tate, Velma (born Velma Young) | Taylor, Valerie |
| Thompson, Merritt M. | Merritt, Thomas M. |
| Vest, D. B. | Heard, Gerald |
| Vidal, Gore | Box, Edgar |
| Weaver, Joe | Aaron, Joe |
| Weldy, Ann | Bannon, Ann |
| Werres, Johannes | Argo, Jack |
| Wolf, Irma "Corky" | Reid, Ann Carll |
---