It seems to me that British gay movies are recurrently overrated (e.g., "Weekend"). Though I think there is much to admire in the 2017 rough romance among the sheep, "God's Own Country" (2017), I don't think it is as good or awe-inspiring as its reviews have suggested. The West Yorkshire countryside where it was shot and from where writer-director Francis Lee hails, makes less of an impression on me than the Rockies of "Brokeback Mountain" (2005). Comparisons to "Brokeback Mountain" are inevitable in that love develops when two young men are isolated from other human contact, tending to sheep. There is even a slight variant on the shirt left behind by the more emotionally open of the pair. This time it is a sweater. And, this time, the nostalgia it triggers can lead to going after the other man and having a conversation about the love they felt for each other.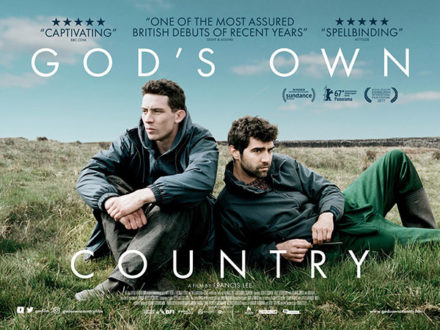 Another difference is that the more emotionally constipated partner, Johnny Saxby (Josh O'Connor), is the son of the owner of the sheep and the land on which they are grazing. The more open (not to mention more mature and even more verbal) partner, Gheorge Ionescu (Alec Secereneu) is a Romanian temporary worker. Given that the farm is on the verge of failing, the socioeconomic difference in status is not huge, but Gheorge's employment depends on satisfying the Saxbys.
Johnny's irascible father, Martin (Ian Hart), is debilitated by a stroke and walking with two canes at the start of the movie and totally disabled by a second one over the course of the film. Johnny is doing the work tending to the livestock (including birthing a calf) and going off nights to drink in town. I'd classify him as passive-aggressive. It is no wonder that Johnny's mother fled. The housework and caregiving to Martin is done by his mother (Gemma Jones).
Johnny is initially resentful of being yoked to the foreign workman. Unlike the pair in "Brokeback Mountain," neither is attached to a female. I'm not sure one could say either has a gay identity, but both have same-sex experiences and preferences. Johnny only looks for quick sexual gratification, generally in the toilet of the pub he frequents. Gheorge literally forces slower sexual gratification and Johnny comes to love Gheorge and want to be with him (rather too fast for me to believe…).
As I already mentioned, in the end Johnny goes after Gheorge, who is alive and amenable (if reluctant) to return to trying to save the farm with Johnny. "God's Own Country" definitely has a happier ending than "Brokeback Mountain," including overcoming the traditional homophobia of Johnny's father and grandmother. I'd say both are pragmatic enough to realize the only hope for saving the farm is for Johnny to live with the man he loves. Johnny never seems to have considered going away, and had not previously conceived of the possibility of male-male domesticity rather than grabbing quick sex in toilets away from the farm.
There is something almost clichéd about the darker partner liberating the lighter one. A recent example is "Being 17," but Jake Gyllenhaal is also darker than Heath Ledger was, as well as his role in "Brokeback Mountain" being the more articulate about love one, the lighter Ledger's character being less willing (or able) to conceive of two men living happily ever after together.
Josh O'Connor is very hung, but I find Alec Secereneu far more physically attractive, on top of the latter's character being far more sympathetic than the former's. Both act well and both get down and dirty in delivering livestock (the animal births are far more graphic than the human sex in the movie and the actors must have learned or known a lot about birthing calves and lambs!). The elders (Jones and Hart) also deliver strong performances. And the cinematography of Joshua James Richards is outstanding, if a bit dark.
In short, "God's Own Country" provides a very well-acted story of very non-urban male-male coupling. Love sprouts more quickly than seems likely and there are very graphic livestock birth scenes. I think "Brokeback Mountain" is more moving, Ang Lee's direction and the writing of Diana Ossana and Larry McMurtry more assured than Francis Lee's, recognizing that this is Lee's first feature, and Lee had made other outstanding films before "Brokeback Mountain." And that Ossana, McMurty, and Annie Proulx (author of the original story and co-scenarist) were more experienced writers.
©2018, Stephen O. Murray