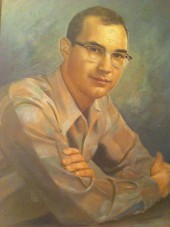 … and how it contains our movement history.
August 24, 2012.
Dear Tracy Baim:
I admit that thinking about ONE magazine, as someday you will experience with Windy City Times, etc., is a pleasant thing, remembering the good times, the people I worked with, etc.
I don't really think of the disagreements, etc. It seems, like a marriage—as I understand it—often the better times were when you were struggling, and when times got good you shared less with each other.
I should say that part of my contribution to ONE was having Melvin and my picture on the cover—I don't seem to find a copy. The first time was with our backs to the camera and the second time, a few months later, was with us walking toward the camera. I don't remember when my name first appeared as a co-editor and then as the business manager. I first wrote one issue of Tangents, and also a few book reviews—it seems twice the books I covered were on religion.
I found one random copy of ONE, and it is the time I wrote the Tangents news section. It had two references to Chicago. It is the July 1963 issue, with an orange sun (sort of like on the CBS Sunday show) on black background.
Don Slater's editorial could be repeated today, about dealing with politicians.  He said our movement needed not a leader or to follow one person but to deal with platforms and issues. I've said before that Don Slater and Dorr Legg were right when they said not to follow them but the work of ONE, Inc.
The reference to Chicago was to a show called To (or On) The Cuff, 2-24-63 (Norman Ross?) I assume, which had Dorr legg and Father James Jones (who said homosexuality was a social issue not psychological) and Paul Goldman (who said he often tried to get a change of venue from bigoted judges).
In a sense, I didn't think we got media notice, but that show got mention in Variety, Playboy and Esquire. Also there was a discussion of the subject on Ben Hunter Show in Los Angeles—on "decency," which displayed ONE magazine alongside porno publications.
Also in Chicago there was mention of how the law change didn't seem to reach the people at North Loop News, who wanted cops to control our behavior. And shades of the Los Angeles Times later, the Chicago Tribune had refused an ad for The Wolfenden Report because it contained the words "homosexual" and "prostitute."
ONE, by the way, was sold at Ralph Bushee, at 115 S. Wells St.
In legal things like Frank Kameny, there is mention of two lawsuits, one by a William Dew (against FAA maybe) and one by Bruce C. Scott against civil service maybe?
ONE covered everything in the movement and communicated with groups in the U.S. and in Europe. We had  articles on all issues. We had those who wanted pen pals, those who were for and against marriage. We had an article on Ann Bannon (1/61) which also covered bartenders. We had an article on successful homosexuals, sort of like Windy City Times does.
We had various covers, some colorful, some just diagrams. Tony Reyes was on one cover mowing the yard (4-61), and Jim Kepner was on 6-58 as a cop.  We featured (Miss) Destiny as a drag queen (9-64).  We had an artist draw member little John Fadner who had been fired from his job.The early issues had an article on Plato. We covered books of the time. We even had cartoons (i.e. Gay Menagerie animals in serotypes).
We had fiction, which some liked and some didn't. We had poetry which most (including me) did not like. Our authors included James Colton (Joseph Hansen) and Bob Waltrip. We did articles on movies, and on Fire Island. We did an article on the problems between Mattachine in San Francisco and New York.
I don't remember how my co-workers affected my life—nor do I remember any teacher. But twice in my life someone said something that stuck. First, as a teenager working at the local movie theater, a woman manager (I still remember her name, Hazel Sapp Wingo) said: "When someone accuses you of something, they are the ones guilty." Why would you want to say you would never want to do something if you had not thought of it?
The other was Dorr Legg, who in helping me get started as the person responsible for delivering the magazine locally and mailing it to the newsstands around the nation said, "When you take the magazine to the newsstands, if, as you pick up the returns before placing the new issue, someone tells you that you will have to come back for the money and you can "trust me"—don't. Take the back issues, and don't leave the new issue.  Anyone who says trust me is not to be trusted."
They don't teach such things in school. We learn them in life. And only later do we realize how such things and people have affected us. And I wonder if those people who read ONE and Tangents decades ago (and still are alive) compare it with what great media we have today.
Our most liked section, by the way, was letters, and then the news section, "Tangents."
---