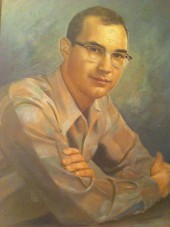 August 19, 2013.
I always like to hear what others are thinking on issues that may affect our community.
I am not sure what I would do, for instance, if I could make the decision on what to do about the Russian laws, the Olympics, etc.
In regard to the "issue" in Bay Windows, if I even understand it, there can be misunderstanding between male and female homosexuals and black and white homosexuals. It is time to stop allowing bigots, even those who are not anti-gay, to make a distinction among civil rights groups/fights.
I  got involved in a small way over the issue of racial segregation in Louisiana in the late 1940s as a teenager—long before I was aware of civil rights issues for homosexuals. Many of us had not even heard the terms or thought of us as a community.
This is example of how no issue is simple. I, like most LGBT people, consider religion as our greatest enemy—Christian, much less Islam, etc. But, it was religious groups that formed my view of why discrimination is wrong. The YMCA had student organizations in high schools (H-Y) clubs, and students, boys, who went to their summer camp worked and lived in an interracial place for the first time.
Then, starting in 1950, LSU dealt with the issue when it started integration under court order. To help students start dealing with the end of racial segregation, the YM/YWCA and, in my case, the Methodist Church/Wesley Foundation, started hosting meetings between students of LSU and Southern. We did small things such as writing letters to businesses urging them to not discriminate. This is the same time when the first bus boycott took place, in Baton Rouge.
Most of us now know of the problem black homosexuals faced, Bayard Rustin being a great example. But many of us who had to choose, decided to work in the effort to gain civil/equal rights for homosexual Americans. We supported women's rights, black Americans' rights, etc. Our main movement co-founder, Harry Hay, found time to work for the rights of American Indians/Native Americans/tribal rights.
With millions of us working for the cause, there is now no problem with specializing: lesbian issues, religious issues, legal issues, health issues, which we could not do when there were only two or three groups in our movement. What we can never afford is for one LGBT group to fight the work of another, or to undercut one effort, such as marriage equality, fearing that it gets more publicity and support than another issue, such as equal employment, etc. And there is no excuse for us to fight over gender issues.
---