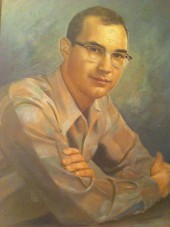 July 23, 2010.
I think it is difficult to follow our history, even when there is no added agenda or who was right or wrong. And if we were/are homophile, homosexual, or gay.
For instance, I am not sure I would say ONE (Institute) started in 1942, yet I see the idea that part of the library started then, as the private library of Jim Kepner. And it may be irrelevant that he first lent it to ONE and then took it back, as he then became an archive, changed the name to IGLA and then his part and Dorr Legg's part joined, so it is confusing and should not be an issue of who was first but how it came to be.
Certainly ONE Institute and HIC have material no one else can have as we were first. But others now have material, such as Tretter at the University of Minnesota, and certainly the material in San Francisco at the GLHS. I assume Lambda Archives in San Diego has material from the time that city became active in the cause. And Stonewall in Fort Lauderdale has much good material, probably from Jack Nichols, et al. Lesbian Herstory in New York has good lesbian material (is it national or East Coast?) as do ONE and Mazer. Gerber Hart in Chicago says it collects mainly material from the Midwest.
And the discussion about Gulf Coast Archives and Museum in Houston shows the difficulty that some of us have. First, it is still not really available and protected — from vandals and from nature. And apparently, surprise, it has personality problems, with leaders who did good work but hurt their own cause by being difficult and over-protective, etc.
I am sure you can talk about the issues of whether or not we should retain full control, or risk losing some to gain the protection of a university library, even though there is the political danger, especially in difficult economical times, that the bureaucrats might try to hide or censor the material when budgets are threatened by bigots' complaints.
I think we are the first generation dealing with this issue, so we are traveling a path no one else has — but then the issue may be generic, with Black history facing the same thing.
But time forces us to start asking for funding to preserve materials before they are lost forever.
And while we have "primary sources," such as living pioneers, such as Frank Kameny.
---