Different from the Others

(Anders als die Andern)
Directed by Richard Oswald
Written by Magnus Hirshfeld and Richard Oswald
Released May 28, 1919 (Germany)
Re-released November 1997  at the Reeling Chicago Gay Lesbian Film Festival
Drama (foreign) • 90 min.
Amazon • imdb
Sex in Chains

(Geschlecht in Fesseln)
Directed by Wilhelm Dieterle
Written by Franz Höllering, Herbert Juttke, Georg C. Klaren
Released October 24, 1928 (Berlin)
Re-released December 2, 2017 at the San Francisco Silent Film Festival
Drama (foreign) • 90 min.
Amazon • imdb
Review by Stephen O. Murray
December 3, 2006.
---
There are two relatively well-known interwar German movies with lesbian subplots—the Countess in G.W. Pabst's 1929 Louise Brooks vehicle Pandora's Box and the girls' school adoration Mädchen in Uniform" (1931). Neither of those was "about" female homosexuality (subsiding on unrequited admiration). There were (at least) two interwar German movies that were about male homosexuality.
Different from Others (Anders als die Andern, 1919) focuses on a prototypically lonely unfulfilled homosexual: violinist Paul Körner [Conrad Veidt, who after being hypnotized in The Cabinet of Dr. Caligari, fled Hitler and was typecast as a sadistic Nazi in Hollywood movies, most notably Casablanca] who finds someone to long over in a student named Kurt Sivers [Fritz Schulz] who comes begging to be taken on as a student. (Kurt is already a fanboy of Paul.)
Screenwriters (sexologist and homosexual rights activist) Dr. Magnus Hirschfeld and Austrian director Richard Oswals explained (in an intertitle) that they are telling the story of a man who "suffers not from his condition but rather from the false [condemnatory] judgment of others."
A flashback to boys' boarding school shows Paul in love with his younger roommate, Max, and bing punished for "untoward tendencies." Another intertitle informs the viewer that "as a university student, Körner led a lonely and reclusive life, devoted only to his studies." The madame of a bordello dots the i's for viewers, remarking that "if that boy's completely normal, then I'm a virgin."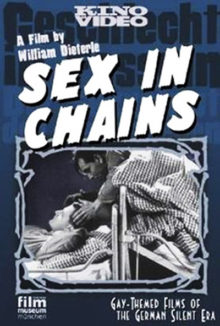 The contempt even for someone entirely sublimating his sexual orientation drives Paul to a hypnotist who claims to be able to "convert" homosexuals. Paul visited a drag performances and acceded to being blackmailed by the nefarious Franz Bollek [Reinhold Schünzel] who later breaks up the Paul/Kurt romance. Refusing to be blackmailed again, Paul refuses to silence Bollek, who goes to the priest. Paul is sentenced to a week in prison. With his career ruined and support from no one, he takes cyanide.
It would be easy to dismiss Different from Others as a pioneer of the "if one is shown, the homosexual must die" genre that persisted in Anglophone movies into the 1980s, and its more-than-a-little stereotypical vision of the sensitive homosexual. But in addition to footage of Dr. Hirschfeld preaching tolerance for "inversion," and urging Kurt to fight against Paragraph 175 of the penal code rather than kill himself, there are scenes of a gay bar and the drag masquerade in which Paul is compromised.
The movie had been thought lost, the negatives having been burnt in the Nazi looting/burning of Hirschfeld's Institute for Sexual Science in Berlin during early May 1933. The movie was partially reconstructed at UCLA, mostly from a print of Hirschfeld's Laws of Love that was found in 1976 in the Ukraine.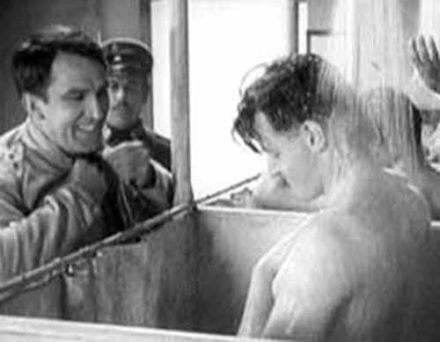 Geschlecht in Fesseln—Die Sexualnot der Gefangene (Sex in Chains, 1928, directed by and starring William Dieterle) was a protest movie seeking conjugal visits for prisoners. Defending his wife's honor (more than she bothered to do, Grouch Marx might have said; the anguished wife was played by Swedish actress Mary Johnson; this was the last of her 32 appearances on screen), the underemployed man played by Dieterle is sentenced to prison for three years. Supervised visits by his wife drive him and her, the movie stresses, crazier. It would be possible to miss that he forms an erotic liaison with a cellmate (talk about not graphic! The earlier (1919) Different from Others (Anders als die Andern) at least makes it clear who is with whom).
I hate the ending. There are some expressionist compositions and edits that are striking. The movie is a historical curiosity, not least for showing that Dieterle, who became a director of prestige biopics at MGM, was a handsome and expressive leading man in the silent era. The print was cobbled together from different archives (different parts had been censored in different countries) and supplied with an uninteresting period piano score by Pasquale Perris.
---
© 3 December 2006, Stephen O. Murray
---