The Way He Looks

Hoje eu quero voltar sozinho
Written and Directed by Daniel Ribeiro
Premiered February 10, 2014 at the Berlin International Film Festival
Romance (foreign/Brazil)
96 min.
Review by Stephen O. Murray
September 22, 2015.
---
The Brazilian movie The Way He Looks (Hoje eu quero voltar sozinho), written and directed by Daniel Ribeiro, won Audience Favorite Awards from gay film festivals in Los Angeles, New York, San Francisco, Seattle, Torino, as well as in São Paulo, where it was made—and other awards at film festivals in Athens and Berlin.
Other than having a blind protagonist as the youth grappling with same-sex love and desire, the movie does not break any new ground. But the three leads are genuinely touching and completely believable. The overprotective mother, the boy's rebellion at her continual infantilizing of him, and the father's mediation are also entirely believable. And so is the slightly predatory Karina [Isabela Guasco].
At the start, there are two, the blind boy Leonardo [Ghilherme Lobo] and his somewhat gawky, fiercely protective friend Giovana [Tess Amorim]. A curly-haired new boy, Gabril [Fabio Audi] arrives in their class and soon takes over some of Giovana's functions, such as walking Leonardo home after school. Plus the teacher commands that dyads working on a project be same-sex ones, so that Giovanna cannot team up as she usually does with Leonardo.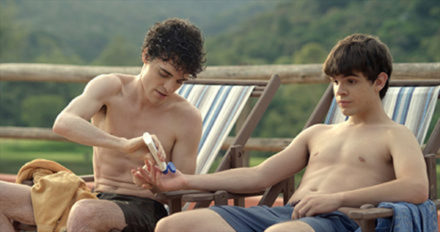 Giovana is understandably hurt and jealous at being at least somewhat supplanted when her best friend forms a new friendship, one with an erotic charge. She is slow to realize the extent of the erotic charge, and each of the boys is unsure about whether the other one loves him (the additional complication of gay/lesbian stories of tentative first love is the fear of rejection of homosexual love). Unlike Leonardo, the audience can see how Gabriel looks at Leonardo, not least in a shower scene (that provides the only nudity in the movie, a view of the buns of the two). Gabriel takes the initiative kissing Leonardo and eventually teaches Leonardo to ride a bike (providing the eyes, as well as instructions) along streets with no other vehicles.
Though shaken, Giovana adjusts and seems to be provided with a new classmate, who looks rather like Gabriel at the end. And she never wavers in challenging the blond boy who enjoys bullying the physically defenseless blind boy.
The DVD includes a 26-minute single-shot interview of the two young actors, writer-director Ribeiro, and producer Diana Almeida. It is somewhat interesting for those who have liked the movie (which is pretty much everyone who has seen it!). It also includes a standard ten-minute making-of featurette, and 14.5 minutes of deleted scenes (including two excellent scenes with Leo's grandmother that impeded the flow of the main story), and, best of all, I Don't Want to Go Back Alone, the 17-minute (2010) short with the same three leads that showed the project was viable. The short, which can be viewed online, also won awards at gay film festivals in Barcelona, Los Angeles, Philadelphia, Rochester, Seattle, and Torino (and awards for short subjects in other film festivals).
(BTW, The Way He Looks was Brazil's submission for the 2014 foreign-language Academy Award. The Way He Looks is much easier to follow than another 2014 Brazilian gay coming-of-age movie, the jumbled if scenic Futuro Beach.)
(With Handsome Devil and Being 17, this is one of the best foreign gay movies currently streaming on Netflix.)
---
© 22 September 2015, Stephen O. Murray
---