Zenne Dancer

Directed by Caner Alper and Mehmet Binay
Written by Caner Alper
Premiered January 13, 2012 in Turkey
Historical Drama (foreign/Turkey)
99 min.
Review by Stephen O. Murray
December 8 2017.
---
The slow-paced, and rather chaotically constructed Turkish movie Zenne Dancer, directed by Caner Alper and Mehmet Binay, is based on a real 2008 "honor killing" by a father of his 26-year-old burly and hirsute gay son, Ahmet Yildiz [played by the then-30-year-old physics student Erkan Avci]. It is not the flamboyant effeminate dancer, Can [Kerem Can] who is slain, but a bearded, conventionally masculine friend of his.
The quest for honesty seems especially foolish for someone about to leave the country (with his photo-journalist lover, Daniel [Giovanni Arvaneh], to Germany) and whose parents live in conservative (Sanli-)Urfa in southeastern Turkey (the legendary home of Abraham, recognized as a prophet by Muslims, as well as the Jewish patriarch, and of Job).
"Honesty is the best policy" is not a Turkish view about stigmatized identity or behavior, and this is an instance where discretion would have been the better part of valor. A neighbor of the real Yildiz said, "He could have hidden who he was, but he wanted to live honestly. When the death threats started, his boyfriend tried to persuade him to get out of Turkey. But he stayed. He was too brave. He was too open." [1]18 July 2008; there is a shirtless photo of Yildiz there.
The father did not want to know, or tried hard not to know, but the mother (hey, mothers are not always the supportive one!) hired a detective to trail her son in Istanbul and report back his gay network (and foreign male partner).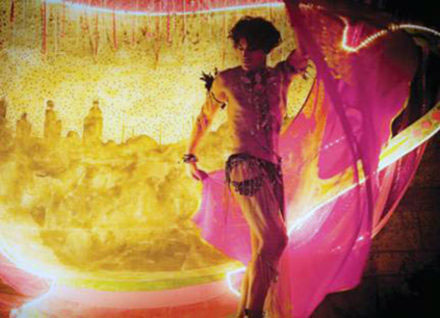 The exotic dance scenes are very colorful. The costumes show male nipples with no padding of hips or tits. The zenne is effeminate but not trying to pass as/impersonate a woman. Also, his homosexuality is accepted by his urban, cosmopolitan family—that is, his mother [Tilbe Saran] and sister [Jale Arikan]. And some of the same men who call him names and harass by day lust after and cheer him on onstage at night.
The obscenity here is the insistence by the Turkish military that men seeking to avoid being drafted claiming to be homosexual must provide photographic evidence of their being anally penetrated. I thought Cam (the son of a major who died in the ongoing war with Kurds in the southeast) left with his proof, but an end note said that the Turkish military has perhaps the largest collection of male-male sexual images in the world (even more than the Vatican…).
The film won best film, cinematography (Norayr Kasper), supporting actor (Avci) and actress (Saran) at the 2011 Antalya Film Festival and the Turkish Film Association award for best film. The filmmakers were unsure if their movie would be allowed to be screened in Turkey, but it was well-received.
---
©2017, Stephen O. Murray
---