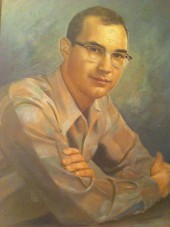 …"From Stonewall"…???
July 31, 2013.
I only say this for the record, as it in a practical sense is irrelevant since those of you who want to leave funds in their wills for HRC will not even be of an age that would think of those active in the movement before Stonewall.
But this movement started before Stonewall, in 1950 in fact, in Los Angeles, with the founders of early Mattachine, and continued with the members who moved on to ONE, Inc., etc.
So I think for accuracy it is important to say that your ad misleads information on just whose "shoulders of the pioneers of our movement" you mean. Apparently you ignore those who worked before the New York media discovered the movement at Stonewall.  I would hope serious people (LGBT and non-LGBT) would know that this movement did not suddenly start that night.
It is irresponsible to ignore the pioneers who worked before Stonewall, just as it is nonsense to ignore people who served this nation in the military before WWII and in some cases after—I think of the silence on those who were in the Korean War.
---