Loose Cannons
(Mine Vaganti)
Directed by Ferzan Ozpetek
Written by Ivan Cotroneo and Ferzan Ozpetek
Released February 13, 2010, at the Berlin International Film Festival
Drama (foreign)
110 min.
Review by Stephen O. Murray
2013.
---
I think that gay Turkish-Italian writer-director Ferzan Ozpetek (Hamam/Steam, His Secret Life, Facing Windows) intended Mine Vaganti (Loose Cannons, 2010) to be a farce, but his penchant for melodrama kept him from, can I say, "letting loose."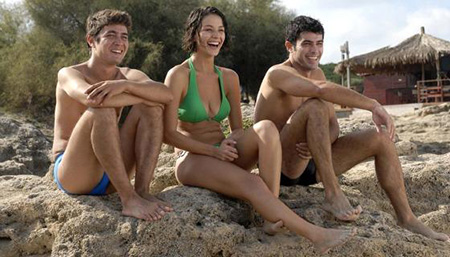 The opening is quite melodramatic with a bride, still veiled, fleeing her wedding and climbing a dramatic stairway to the room of her presumed beloved. This melodrama from about half a century earlier is intercut with the present-day dysfunctional family headed by that now elderly woman's [Ilaria Occhini] very conventionally macho son, Vincenzo Cantone [Ennio Fantastichini] who is also head of the family business, a pasta factory, that his mother and uncle founded and built.
Operations have devolved to Vincenzo's elder son, Antonio [Alessandro Preziosi]. The younger son, Tommaso [Riccardo Scamarcio], has supposedly been studying business administration but tells Antonio that he has actually majored in literature, wants to be a writer, and is going to tell the family that he is gay so that he can return to Rome, where his lover, a physician, is waiting to decorate their new home.
Spoiler Alert:
Antonio beats his younger brother to the punch and comes out at a family dinner with the new corporate partners. After expelling Antonio from the business and the house, Vincenzo suffers a heart attack. Antonio is pressed to take over with the daughter of the new partner, a very headstrong woman who I'd say drives imperiously, certainly imperviously, of others, Alba Brunetti [Nicole Grimaudo]. Do I need to add that the families hope the two will wed?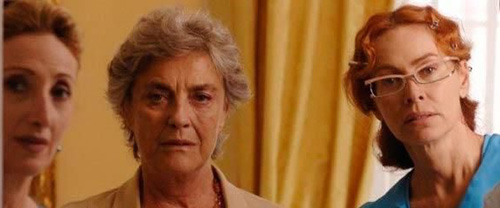 The outright farce part of the movie is when Tomasso's partner Domencio [Matteo Taranto] and three fairly flamboyantly homosexual friends from Rome stop by Lecce, allegedly on the way to somewhere else, though Lecce is pretty remote (on the heel of the boot of the Italian peninsula).
Vincenzo, who believes he can recognized homosexuals, is delighted by the muscular young men, and his wife, Stefania [Lunetta Savino], consults with her son's lover about the possibility of "curing"(Antonio's) homosexuality. She is disappointed when he tells her it is a trait, not an illness.
The matriarch/grandmother knows that both of her grandsons are gay and that the Cantone pasta factory she pioneered is going to be run by non-Cantones (though her grand-daughter Elena [Bianca Nappi], who has married a Neapolitan lump, comes on board at Tomasso's behest). As the flashbacks advance, it becomes clear that the bride was in love with the brother of her groom, and it was he who led her back to the wedding party. It is her son who sees the matriarch as a "loose cannon." If he knew that she had urged both of his sons to follow their own bliss, i.e. be homosexual, he would have been even more horrified.
End Spoiler Alert
Both Ilaria Occhini and Ennio Fantasichini won best supporting David de Donatello awards. I don't see his spluttering and cluelessness as particularly impressive, though she is charming in the late Jessica Tandy grandmotherly style (urging younger people not to give up their dreams only to regret their compromises later in life).
Nicole Grimaudo is strikingly beautiful and oddly touching considering how imperviously entitled her character is. Alessandro Preziosiis not hard on the eyes but strikes me as too blank to carry a movie, though he mostly only has to react to others rather than take action.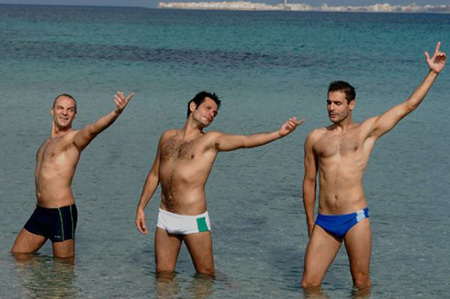 I like the grand finale but wish there had been more backstory along the way, especially for the female characters (especially Alba's and Elena's) but also the grandmother's and the myopic dipsomaniac Aunt Luciana's [Elena Sofia Ricci]. I have no idea why the grandmother married the brother of the man she loved (and started the pasta manufacture with).
Though lacking any visual distinctiveness, Maurizio Calvesi (The Soul Keeper, I Vicerè) shows the warm Mediterranean setting notherners dream about.
The DVD has no bonus features, not even a trailer.
---
©2013, 2016, Stephen O. Murray
---