Steam: The Turkish Bath
(Hamam)
Written and Directed by Ferzan Ozpetek
Released May 9, 1997 in Italy
Drama (foreign)
94 min.
Review by Stephen O. Murray
1998.
---
The 1997 Turkish-Italian Steam: The Turkish Bath (Hamam, the first directed by Turkish-born Italian Ferzan Ozpetek of Loose Cannons) is not a great film, but it is an enjoyable one, focused on the floundering of a marriage and finding happiness in male arms.
Alessandro Gassman joins my list of young actors with furrowed brows that will soon be wrinkles. His tall, very pale, un-Nautilesed body seems perfect for modeling Italian suits but doesn't look bad in a towel either. Scion of an acting dynasty, he is not a model but an actor, and a good one. He conveys both the yuppie alienation and throwing himself into a family project (both his adopted Turkish family's and the aunt who earlier settled in Istanbul and owned a hamam—she is heard but, unlike Heat and Dust not seen; the budget was minimal). Not a lot of tourist vistas, but the food spreads made me long to return to Turkey.
As with Gods and Monsters, I am able to rationalize that Francesco dies for reasons other than homosexuality (capitalist greed herein), though "The faggot must die" remains a mandate I suspect.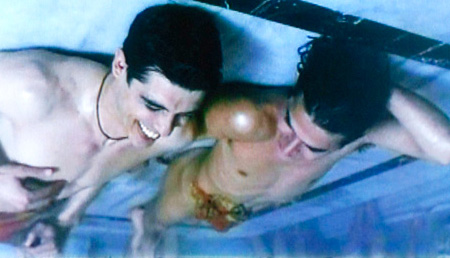 Perhaps the most intriguing aspect of the film is that an Italian is portrayed as needing to go elsewhere to find familial warmth, a focus on food, and less materialism. Italy used to serve as a site for alienated Northern Europeans and North Americans to find poor but warm and sensuous life, now Italians (at least Romans?) are taking the other (neocolonial) role.
---
originally published by AssociatedContent (later bought and obliterated by Yahoo)
©1998, 2017, Stephen O. Murray
---