Reaching for the Moon

Directed by Bruno Barreto
based on the novel by Carmen L. Oliveira
Premiered February 9, 2013 at the Berlin International Film Festival
Drama (foreign)
118 min.
Review by Stephen O. Murray
March 27, 2015.
---
I think that I like the Brazilian (Portuguese) title, Flores Raras, better than the America (English) one, Reaching for the Moon, for this 2013 Brazilian movie (almost entirely in English) about Elizabeth Bishop's (1911–79) Brazilian sojourn with fairly butch architect Lota de Macedo Soares (1910–67; she is compellingly played by Gloria Pires).
On the advise of fellow poet Robert "Cal" Lowell (Treat Williams), Bishop (played by Miranda Otto [Lord of the Rings]) sets off (in 1951) on a "geographic cure" trip to South America, stopping to visit her college (Vassar) friend Mary (Tracy Middenford) who is living with the no-nonsense Lota, whose family is rich and influential in Brazil.
While visiting the country place Lota is building outside Ouro Preto, Bishop, who is allergic to nuts, eats some cashew fruit and gets sick, missing the departure of her boat to her next port of call. Lota puts the moves on the very uptight norteño, much to the dismay of Mary (who is eventually bought off by Lota buying a baby girl from a poor family for Mary to raise).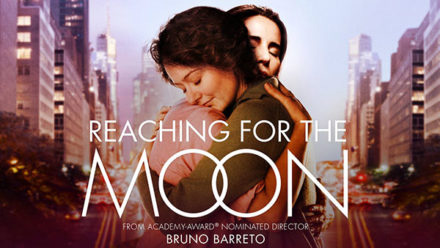 Though an alcoholic with frequent writer's block (and/or perfectionism), Bishop does some work that wins her a Pulitzer Prize (in 1956 for North and South-A Cold Spring) and, later (1970), a National Book Award for her Complete Poems (1969). Lota pushes forward her (modernist tending to brutalist) design for Flamengo Park in Rio de Janeiro, between downtown Rio and Copacabana. (Rio's Museum of Modern Art is in that park, btw.)
Eventually, Bishop accepts a one-semester teaching post back in the U.S. at New York University (I think her first academic post was at the University of Washington, followed by Harvard), and Lota shows she is not as strong as she appears. Like 1950s representation of gay and lesbian liaisons, there is a tragic ending for the gender-nonconforming partner.
The movie (based on a book by Carmen L. Oliveira) is fairly conventional biopic, if closer to fact than many—and about a lesbian poet, as few movies are! The melodrama is not imported to/for the movie. It is very scenic, shot beautifully by Mauro Pinheiro Jr. (Alice's House).
Director Bruno Barreto earlier directed some of the few Brazilian films exported to the U.S.: Dona Flor and Her Two Husbands (1976), Four Days in September (1997 also mostly in English, starring Alan Arkin as a kidnapped U.S. ambassador), and Bossa Nova (2000). Pires, who is very impressive herein, is a star in Brazil but largely unknown elsewhere.
By the way: it is Lota who "reaches for the moon" in her highly elevated light fixtures for Flamengo Park. Bishop remains earthbound, though gaining some appreciation for Brazil and Latin American literature (especially for Mexican Octavio Paz [1914–98], winner of the 1990 Nobel Prize for Literature).
---
First published on Out In Jersey, March 27, 2015.
©2015, 2017 by Stephen O. Murray
---