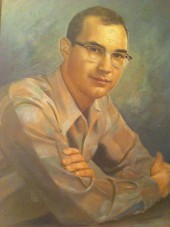 March 24, 2004.
Here are some items that appeared in our Newsletters and news sheets, in the '60s on.
Many had book reviews, including those of Dorr Legg, Jim Kepner, Vern Bullough, Charles Lucas, Jeanne Barney, Don Slater, Joe Hansen, Dale Jennings, and other pioneers in our movement.
HIC Newsletter #49 (Spring 93) was book reviews. Lambda Gray (Adelman, Berger, etc. from Newcastle) was reviewed by Dorr Legg; J Edgar Hoover by Dale Jennings, Homosexuality and Society reviewed by Charles Lucas, and a play, Total Eclipse, is reviewed by Roger Rogers.
HIC Newsletter #48 (3/93)i s a discussion by Don Slater, on privacy, the issue of orientation versus preference, and the idea of choice, caused by the Colorado Amendment.
HIC Newsletter#47 (12/92) was books. Queer Edward II, by Dale Jennings, Making History reviewed by Don Slater, and among other things he again says what he always did, homosexuality leaves no trace. And Charles Lucas's review of The Dreyfus Affair, which I think is still being thought of for a movie. A take off as I understand it, on the French Dreyfus thing.
Jump to some early ones:
Tangents magazine, October 65: ( I gather this is Volume 1, No. 1) Discusses some about the ONE, Inc. split. Says that there had been an attempt to separate the Library from ONE long before Don moved it out. And also a generic discussion of some libraries being censored about pornography. Also a discussion of the bibliography and ISHR giving $10,000 to support it which was instead spent on the ONE dispute. Also an ACLU statement on homosexuality, and Vern Bullough and (my notes are as usual no good) apparently they (or we) discussed the fact that some laws are based on religion and connected our privacy etc. to the Griswold v CT decision. And an editorial in The Nation magazine of 11-8-65.
I can't believe that all of this is in this one issue, but then it discussed the fact that the Daughters of Bilitis withdrew support of the picketing of Independence Hall, not sure if this is same as the Motorcade time or before, but was (I think) with Frank Kameny, Barbara Gittings, Jack Nichols, etc.
There is just a page with our statement on the issue of the draft, that Don put out for the Committee to Fight Exclusion of Homosexuals From The Armed Forces.
Then there is also a discussion of the play The Geese, at the Coronet Theater, at which we helped get guests to speak to the audience after the play, such as Joe Hansen, Irene Kassorla, Gale Whittington, Fred Goldstein, Don Slater, Morris Kight, and Herb Selwyn.
HIC Newsletter #44 (9-91) includes Dale Jennings' thoughts on Simon LeVay and the Salk thing about the cause of homosexuality.
Back to 1965:
HIC Newsletter from Oct '65, Mentions Harlan Antler, as a speaker at our monthly meetings, from the Young Democrats. Also we had Laurence Anderson, of psychodrama, Herb Selwyn, Bob Cleaves had us sponsor the play by Martin Duberman, In White America, and the report of Joe Hansen speaking on KPFK. So the play is just more evidence that our movement worked on other issues, such as racial civil rights.
HIC Newsletter, Nov '65, Covers the ACLU on teachers' rights, based on the Donald Odorizzi case that Jim Schneider and Herb Selwyn worked on. Also some legal work done by Burton Marks and Stuart Simke, I guess on the case. We issued a press release.
HIC Newsletter, Dec '65:  About the post office snooping on pornography and our Vennen case, and we got Roger Hunting and Harriet Pilpel of the law firm of Greenbaum, Wolff, and Ernst (in New York) to work on it some. The DOB had a conference in San Francisco, with Bishop Pike, Joel Fort there. I gather we had ads in the New York Times and The Nation.
A newsletter with no date I can find: We had an income tax consultant available for those who wanted to have help and would make a donation. We had a 24-hour answering service that was advertised in the Los Angeles Free Press, and this is when I think the Black Cat or some bar raids took place. Don Slater was on ABC TV answering the police on police brutality, Carl George show I guess. I spoke to Paul Bentler's UCLA psychology class. Jim Schneider worked on a Whittier legal case. I don't remember it, but I was chair of a West Coast section. We had 30 people at a monthly meeting, and 100 at the Tavern Guild, which we helped start. Tangents was mentioned in the Village Voice. World Journal Tribune. Don was on Joe Pyne's show, I was on Regis Philbin's (on the draft, and he was unfriendly). LOOK magazine did the article on homosexuality. The Frontier Club did something. Pride also mentioned our Vennen case. And Frank Patton was the New York attorney, mentioned above, handling the Vennen case. Also there was a letter in Playboy that mentioned us. I gather our ONE case was 3-14 in L.A. Sup Court. NACHO met in Washington 8-17 to 19. Still not sure of month and year of this newsletter.
Anyway, I think it is important to remember just how active we really were. And reading the newsletters reminds us of that. And it should be evidence that people and groups working in the this century need to keep records and not think they will remember what happened or was said.
---