Together—Toward a Common Goal
by Barbara Grier as "Gene Damon"
Photograph courtesy JEB[1]Barbara Grier image ©2017 by JEB (Joan E. Biren.) Used by permission.
Tangents
Pp. 16–18.
---
On February 19th and 20th, 1966, a meeting, not by definition a caucus or a convention, was held in Kansas City, Missouri.
No doubt other meetings were held in Kansas City during February, but it is unlikely that any other had such revolutionary aspects. For this particular gathering was of a group of men and women who gave themselves the name The National Planning Conference of Homosexual Organizations.
Quietly and expectantly the delegates gathered—some arriving as early as the afternoon of the 17th—delegates from nearly all of the homosexual organizations of the United States, to sit down together and discuss their common and their divergent goals. Individually or in parties they came by car and train and plane; they paid their own way for the most part because the organizations they represent live a hand-to-mouth existence, supporting the dreams of millions in threadbare pockets.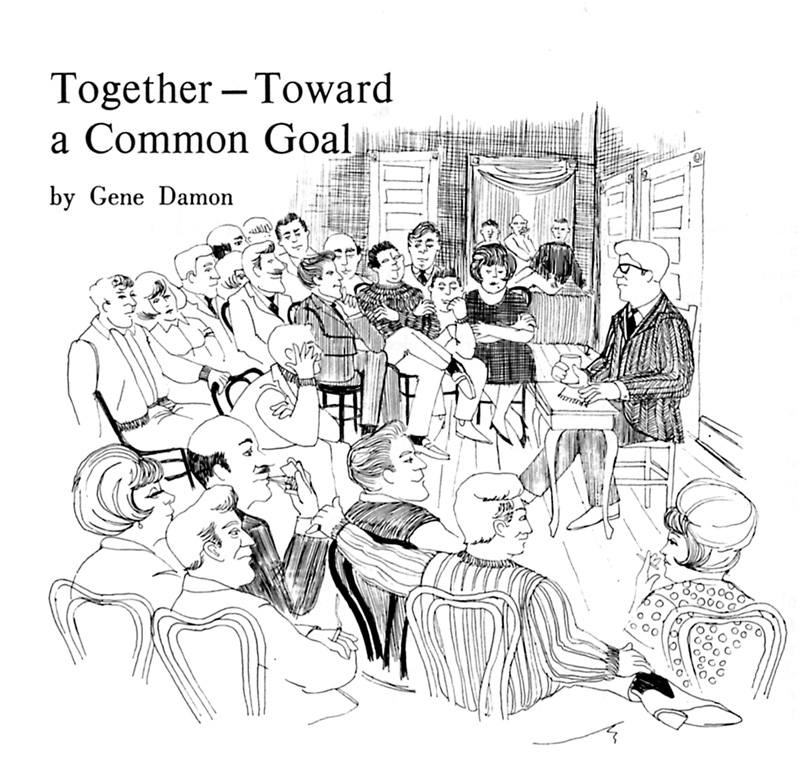 Instead of cocktail parties and banquets, there were pre-meeting hours in poorly-arranged and poorly-lit hotel rooms as strangers with deeply integrated goals sought communication lines to bind them together in the formal sessions to follow. For like all articulate, intelligent people, these leaders had found individual paths to common goals, and the meeting was to be a pause in which to find ways to amalgamate the various approaches.
And on the first formal morning, while delegates milled about informally and some talked of breakfast—although it was then past 9:00 a.m., the agreed time to begin—others began to gather in curved lines of stiff-backed chairs in a dingy, comfortless room, and to sit down and call for order out of chaos. Order, not just in the pinning on of name badges, the finding of ash trays, the brief, last minute hail-fellow handshake, "How do you do! I've so looked forward to meeting you!" but order in a world just now now ready for a conquering.
To business: a chairman, an agenda, a secretary; to tape record or not to tape record, and what to do with the tapes when agreed upon? Nothing! About forty persons, representing 15 organizations, looking much like a roomful of members of any society of teachers, librarians, sociologists, etc., just people—marked only by the attitudes which might make leaders in any field—hot heads, strong voices, cool reasoning, articulate tongues.
Dr. Clay Colwell, of the Council on Religion and the Homosexual in San Francisco, was chosen as chairman for the entire meeting. With his sensitive handling of the difficult position the 17-point agenda was completed by late afternoon on the second day with time in between for the reading of formal papers and many arguments over strongly-held dearly-cherished positions, and despite the early realization that on some points the majority present would never be able to agree. But on a number of important issues cooperation between the organizations was assured.
One decision significant to every draft age homosexual was the implementing of a plan to present mass meetings on Armed Forces Day, Saturday, May 21, 1966, in the major cities of the country to bring large scale public attention to the moral dilemma faced by the draft-age homosexual who really has a frying-pan or fire situation today.
The organizations agreed to cosponsor several brochures, sharing in the cost of production. SIR (The Society for Individual Rights) and Janus Society volunteered to prepare and print brochures which will then be available to all sponsoring bodies for distribution. One brochure is informational on a simplified level and is aimed at the general public; another is inner-directed to awaken and enlist the support of the non-affiliated homosexual, and several other pamphlets are being directed at individual professional groups.
Local attention and action was urged on the question for a national legal fund to provide financial and legal aid in important law cases. It was agreed that the idea in principle was a good one. If the individual organizations support the proposal, The National Legal Fund will be created along the suggested lines of a trust.
Immediately following the close of business on Sunday the 20th, a press conference was held. Dr. Colwell was interviewed by two reporters for the Kansas City Star. This interview appeared in the Kansas City Times (the morning edition of the Star) on February 21. It was well handled by the paper. Warren D. Adkins of Mattachine Society of Washington, D.C, and Phyllis Lyon of Daughters of Bilitis, Inc. of San Francisco, were televised by WDAF-TV in Kansas City, but the interview was not used by the station. The success of the meeting led to a decision to hold a second one in San Francisco, August 25th through the 27th, 1966.
When the forty representatives went home they were tired—and those from warmer climates were cold from the Middle West winter—but all were warmed by having shared the blaze of a common fire. They went away knowing they had created a uniform policy statement, the first such statement agreed upon by all these organizations. Together—toward this common goal, in bold and mutual terms:
Laws against homosexual conduct between consenting adults in private should be removed from the criminal codes. Homosexual American citizens should have precise equality with all other citizens before the law and are entitled to social and economic equality of opportunity. Each homosexual should be judged as an individual on his qualifications for federal and all other employment. The disqualification of homosexuals as a group or class from receipt of security clearance is unjustified and contrary to fundamental American principles.

Homosexual American citizens have the same duty and the same right to serve in the Armed Forces as do all other citizens; homosexuality should not be a bar to military service…

For too long homosexuals have been deprived of their rights on the basis of cultural prejudice, myth, folk-lore and superstition. Professional opinion is in complete disagreement as to the cause and nature of homosexuality. Objective research projects undertaken thus far indicate that findings of homosexual undesirability are based upon opinion, value judgements or emotional reaction rather than scientific evidence or fact. And as a result a substantial number of American people are subjected to a second-class citizenship.

It is time that the American public re-examine its attitudes and its laws concerning the homosexual.

Signed:

Citizens News, San Francisco
C. R. H., San Francisco
DOB, New York, San Francisco
Janus, Philadelphia
Mattachine, Florida, Midwest (Chicago), New York, San Francisco, Washington
SIR, San Francisco
Tangents, Los Angeles
Tavern Guild, San Francisco
---
©1966, 2016 by The Tangent Group. All rights reserved.
---