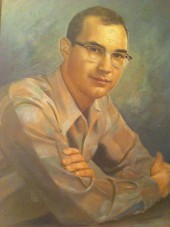 October 22, 2010.
An Editorial to the Shreveport Opinion.
People seem to think about their country by what it is like the moment they go to vote. Young people can be excused for this ignorance. Old people can not. Anyone who says that we need to "take our country back" or want to go back to the good old days must be  WASP — White Anglo-Saxon Protestant. And a moment spent thinking about what it was like in the 1940s and what it is like today will show any intelligent person why that "view" is stupid and unAmerican.
To prove this, go visit your State Fair. Perhaps yours may not be like mine was (and is), but here is what should make any American proud — by being at the Fair in the those good old days and now.
Then we did have a parade downtown, high school bands from all over the area came, marched and then spent the day enjoying the fair — meeting members of the other bands. The food was good, as it is now. And there was a college football game, which we couldn't have seen otherwise. But the exhibits were more "interesting" then, the rides more exciting. Why? Because then we didn't have TV and constant entertainment. We see football games and all other sports 24 hours a day. Then it was fun to make the trip to the Fair, which took hours for some of us. Today it takes an hour at most to get there, on four-lane highways. And downtown is dead. No bands.
And all those exhibits are on TV 24 hours a day, selling products you order online.
But the most important change from those days to today is in people. There was a day when if a black American had shown up at the gate of the Fair, they could have caused a riot — white people would have been shocked that a black person would not know that there was a day set aside for the "colored" people to enjoy the fair, just as the balconies of theaters were set aside for black moviegoers. Today, most people don't go to theaters; they watch movies on TV, etc.
As I walked around the Fair yesterday, with all sorts of people, I thought about how different they were from their grandparents who walked that Fair in the 1940s. How do you explain the fact that today black Americans, and all Americans, are walking and eating and riding together and  no one gives a second thought about that fact?  How did such a drastic change in society happen?
Politicians could wonder how to "reach" all those possible voters. And I doubt any of those thousands of people thought about the fact that they were all there, without regard to religious beliefs or political views, just as we drive the highways of America and don't worry about the sex or race or sexual proclivities of the other millions driving next to us — only that they know how to drive and obey the laws.
But we should think about it and be proud of it. We changed, for the better, and each decade the nation is getting more just and more like the nation the founders dreamed of. Our greatness is based on our diversity. We don't have ghettos now. We don't make a certain race or religious group have to come to the Fair at a certain time.
But we have no problem with any race or religion if they agree to follow the same rules everyone else does. They can dress "funny," as some think Pentecostal women, or the Amish do. But any "cultural" choice can not harm our nation — so no dress can hide a person so that they can not be identified. We think of that about Muslims, but we also thought about that about Elvis. Some thought he was a threat to our way of life.
And as I left the Fair, I passed a large group of Indians, from India, dressed as they do in India, and I think of how the other thousands of Fairgoers were dressed, mostly in blue jeans and shorts — and I think that, without losing their cultural diversity, America is better today because of blue jeans. But I also thought about the fact that the mayor of the town is a black man, as is the President of the United States, and the governor the state is an Indian — as in, from India.
It is common sense to dress according to our climate, not the climate in some other nation, and with washing machines we don't have to worry about getting food on us as we walk around the fair with all other Americans, enjoying the Fair today. And we should be proud that is is not like the Fair of the 1940s.
We as nation are better than we were in the 1940s.
---