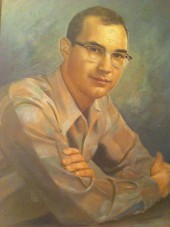 April 18, 2008.
I want to get down my thoughts on the visit with Tony Reyes that Paul Harris, Ron Tate and I enjoyed this week (Tuesday night to Wednesday morning) at the house in Dolores, or rather on Summit Ridge above Dolores.
We left San Antonio Sunday, spent the night in Clovis NM, got to Tony late Monday, ate a good local restaurant with a lovely name (The Naked Moose) and spent all day Tuesday with Tony (and cat Lucky). He invited two friends over to meet us, one just moved there about a year ago and lived in house he moved across the road and put on land sold by Tony first to a neighbor, Susan of the lamas, and sold by her to Kevin, who sold a restaurant in Leadville to "retire" but now is studying to go into solar panel work, and a forest ranger. Later another friend came by.
Ron had brought a video camera to record Tony talking and playing. He did and if sound etc. is ok, will put on a disc. As I had done so often in the past, my favorite time was walking up the hill from the house to look over the valley down into Cortez, or north west to the Blue Mountains of Utah, or south east to Mesa Verde. North east would be toward San Juan and Telluride, but that view is blocked by a small mountain, as is the view down to the river and town. I think there are about 28 acres left. Tony sold the irrigation water share, but has city water and thus can rent out part of the acreage to a young woman for two horses— she is manager of the Super 8 Motel in Cortez.
Tony has spent time, energy and money to fix up the house, which Don would never allow — he would not even have a phone, etc. The small stucco house now has a cover of siding and three patios. The basement is now Tony's art studio. And he added a large bedroom on the back — the small downstairs bedroom was the only one as the upstairs were not completed, but we used them happily anyway.
He covered over the potato underground room outside, and lost the garden the Wheatlands had — the first year we ate asparagus and strawberries out of it. It was — and now is confirmed to my way of thinking — that this, like the wonderful Victorian house they bought in Echo Park/Angelino Heights — was a great move.
They got the house after looking in ads all over California, but this was the best buy, and so we drove in the old Studebaker to Cortez and met the real estate people and they put down $5,000 and got the house including about 33 acres, part of which were across the road and most in steep drop in valley below where the old train ran from Dolores to Durango. The Wheatlands had built the house, but Nell wanted to move down into town and so Winfred went along and she died shortly after and it seemed they were colder down in the valley than on the ridge. He later lived until he died across the valley in the wonderful housing built for the city for elderly people.
Tony looks still after Hazel, who played the piano for his dancing, etc, and is in a nursing home—she may come out, but its doubtful. She has a lovely house on the Dolores River in downtown Dolores, which may be taken by state if she stays in the nursing home.
We went to the lovely Dolores Library, overlooking the river also and used the laptop for a second. And, looking at the books we saw on display with lots of others, a picture on the cover of a book of Bayard Rustin, so glanced at the book, mostly a picture book aimed at young people, but it was sure a sign of something that it was there in this small Four Corners library. I could not find out in a short time, but think there is a gay/lesbian group in the area and perhaps at Fort Pierce College which overlooks lovely Durango.
Tony looked a little older but good, tanned, drives a new white pickup, still paints and even sells some at flea markets, sings and play guitar for events and in nursing homes, etc.
He seems to have been able to adjust to being alone well, and put away the income from selling the house in L.A., the irrigation shares, so is ok financially. Don of course did not save money as he put it into the organization.
I thought Tony did not feel comfortable talking about "history." He did mention to one of Ron's questions that Don thought I was a good proofreader, but what he didn't say was that Don didn't think I was a good writer, and he often said he was frustrated that if he wanted me to interview someone, I would end up in giving my views to the interviewee rather than get his/her views.
In a sense I felt Tony still evades thinking about the old days, so we get little information on his work with ONE, etc.
I do think it is important if possible, to learn more for my personal interest, more than of historic importance, as to just how he did meet Don. Joe Hansen's biography of Don (A Few Doors West of Hope) says that they met in Pershing Square. This does not necessarily mean that that is not true, but Tony feels he got to know Don at a meeting at Clifton's Cafeteria on Broadway. I am not sure he said that a mutual friend introduced them, but I am sure he said he wanted to be near Don, so he went to USC and was allowed to attend a sculpture class by either the friend or arranged by the friend [Glen Lukens]. I am not sure of the years of this period. I think he had left Dallas, where he lived, with a brother, and they got separated in L.A. So where did Tony live, and how did he get income?
Tony played the piano and banjo for the taping.
Ron gave Tony a used computer, and hopefully the neighbor can get him on the Internet so we can get him to email. There is still so much we would like to know.
But the trip, fast and short though it was, was great. Visiting with Tony was a pleasure, and it is only because Ron and Paul covered the expenses that we were able to go.
And as I sit in Ron's house in San Antonio trying to remember what was important, rather than just that I enjoyed, perhaps I will think of more later, but I wanted to let everyone know something of the visit.
Is there anything "relevant" about Ron having a cat? Afandi of course stayed home so that Silver was looked after, and I have three cats hanging around my house, which Donnie and Jamie and even a neighbor are looking after. Tony has a male black-and-white good-sized cat, Lucky, that talks to Tony but didn't seem to like me, but it curled up on the couch next to Paul (who does not have a cat).
(As Joe "covered" it in his book, the Slater/Reyes household has had dogs, cats, and a rooster, so animals are a part of life.)
---