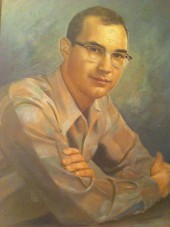 June 22, 2012.
To Karen Ocamb:
I am aiming this thought at you since you are there in what I consider ground zero of the movement. I see Lesbian Connection and find it does coverage that I don't see in men's publications.
I had also just seen the Program for a ONE event in 1997, and it lists many names of people who helped put on the event. I wonder where they are today—it could be that I just don't hear from them as I am not in L.A.
But one name was, I think, in both publications: Karen Quinn. In the LC (Elsie) there is a note of a donation in her memory, by Sally in Lansing—so it could be a different Quinn. In the Program it says the Annual Ball was produced by Karin Quinn. I see the Karen/Karin, but it did make me wonder.
And where are the others who worked on the Ball? Gail Conrad, Carol Carpenter, Carlos Brown, Robert Chambers, Kathryn Korniloff? How are some others doing? Lily Tomlin, Bruce Vilanch, Mimi Gonzales, Paris Poirier, Karen Kiss—we may neglect earlier celebrities for the latest newcomer.
And are the ONE people listed still active? Robert Arthaud, Flo Fleischman (do we honor them still?) Karen Quimby, Ernie Potvin (same question), Pat Allen, Jesse Jacobs, Sylvia Rhue, Mischa Schutt? And I don't hear from some of the Advisory Board, what are Brenda and Wanda Henson doing, are they still in MS? Sadly many are gone—Morris Kight, Frank, Vern Bullough, but at least Mark Segal, Robin Tyler, Urvashi Vaid et al. are still going, as is Troy Perry.
I even wonder about the advertisers. How are the Women of Ojai? And how are the writers doing? Patricia Nell Warren, Robin Podolsky, Aleida Rodriguez, Terry Wolverton, Steve Johnson, et al.? I know how Stuart Timmons is doing as he was covered in the Harry Hay celebration. And John Woo? And the Schutrum-Pitco Foundation?
Back to LC—they give listings for new resources, such as a Coastal Hearts (.com) in the Santa Barbara/Ventura area. And there is an effort by OLOC to honor lesbians who were involved in the civil rights movement in the 1950s, in connection with the pan by the National Black Justice Coalition to mark the hundred years of Bayard Rustin. But the deadline is June 30.
Just some thoughts.
I know, having just seen a repeat of the PBS show on the Internet that we all now have short attention spans and may not have time for history.