Black Deutschland

by Darryl Pinckney
Published by Farrar, Straus and Giroux
Published February 2, 2016
Fiction (African American)
304 pgs. • Find on Amazon.com
Reviewed by Stephen O. Murray
May 21, 2017
---
In a 1992 article about Darryl Pinckney following publication of his seemingly very autobiographical "novel," High Cotton, he said that it was not autobiography:
It's part of my story, but not all of my story. Things are always very much better and very much worse than you say — lots has been left out…. Once you're into a story, you begin to leave your models behind; the story creates its own demands.
Nora Kerr also reported that he was living in West Berlin and that "when he was a Hodder Fellow at Princeton, he began, but didn't finish, an ambitious study of blacks in West Germany. 'I wasn't really prepared for it then,' he explained. 'But I may come back to it.'"
Pinckney's 2016 seemingly less autobiographical (first-person narrated, at least) second "novel," Black Deutschland is not an ambitious study of blacks in West Berlin, though it is an account of an unambitious, bookish, black refugee from American racism, Alcoholics Anonymous meeting-going 30-year-old gay African American from Chicago (rather than Indianapolis, like Pinckney and his first novel's protagonist; Jed is also a decade younger than Pinckney, who was born in 1953).
In a New York Times review of High Cotton, Edmund White wrote that its never-named narrator/protagonist "seems unreal even to himself. He has acquaintances rather than friends, observations rather than passions, few resentments, guarded enthusiasms and no sex life."
The narrator/protagonist of Black Deutschland has a name: Jed Goodfinch. He also has acquaintances rather than friends, observations rather than passions, and more resentments than the earlier, younger protagonist of High Cotton. Though, like his inspiration five decades earlier, Christopher Isherwood, Jed went to West Berlin for the boys. For most of the narrative, he has unrequited longing for a German man ("Manfred was the white boy I wanted to bring home to my black parents"— except that Manfred is straight). Jed often feels that he is the only person there who is not sexually active" though he went hoping (paraphrasing Isherwood) "Berlin meant white boys who wanted to atone for Germany's crimes by loving a black boy like me." In what follows (the quotation is from the book's first paragraph) Jed does not encounter any Germans fetishizing BBC, nor does he bed any of the many randy Turks in West Berlin. He is aware of the shadow of AIDS, though his acquaintances seem to give it no thought.
Roughly two-thirds of the way through the narrative, Jed connects with a very handsome soccer-playing black student (i.e., someone a decade younger than he is) who was born in France and whose mother-tongue is Bambara (i.e., his parents came from Mali to France). Jed is so preoccupied with losing Duallo to one of his predatory omnisexual acquaintances (male or female) that he does not relax enough to enjoy their nights together. Jed is aware that Duallo's life is in Paris; he is only a temporary resident of West Berlin. And Jed feels that the beautiful youth is out of his league so can enjoy his sexual partner not very much, though reveling in his good luck not only to getting laid but with a fantasy-material partner.
Other liaisons are chronicled, gay and straight, with the most attention paid to Jed's once-tubby cousin Ruthanne, who has renamed herself "Cello," a gifted pianist whose stage fright keeps her from performing. She married a rich cultural patron, Dram, and is drawn to the dangerously charismatic charlatan architect, N. I.Rosen-Montag, for whom Jed works as a publicist (and Manfred as an engineer). Her family's pathology and the joint venture of a Negro newspaper on which Jed's father worked his whole work career receive considerable coverage in flashbacks that are not marked as such and rarely seem triggered by anything in the novel's present.
There are also frequent bursts of information about African American expatriates in Europe and the sex life of Frederick Douglass (no, not including any male partners…). The 1893 Chicago Columbian Exposition/World Fair pops up multiple times, along with pancakes (Aunt Jemima's and Jed's father's), as does the catastrophic Lisbon earthquake of 1755. And snatches of the Brecht/Weill "Alabama Song" ("show me the way to the next whiskey bar," rather than "show me the way to the next little boy").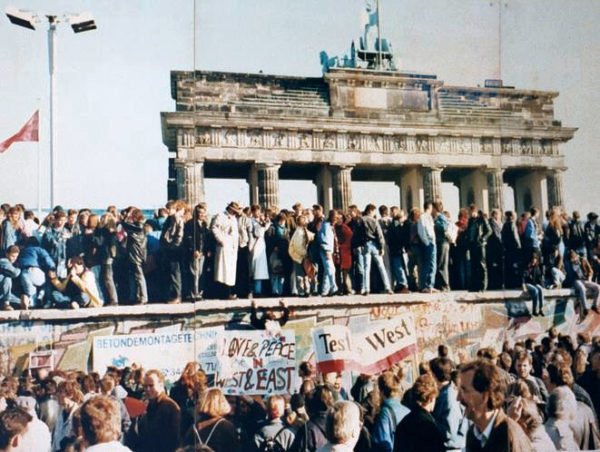 I don't know why a book set against the last years of bifurcated Berlin/Germany appears now (well, 2016, but more than a quarter of a century after the end of the island of capitalism in the gray expanse of communist East Germany makes it a historical novel and/or a very belated report). There are periodic jolts of wit along with lots of self-deprecation for someone who has failed to distinguish himself (this is a major element that is not autobiographical, though the feelings of underachievement may be the author's as well as the narrator's).
If there is a point to the rambling, digressive narrative, I don't know what it is (though there are some cogent points about the intersections of class and skin color.) Jed attains sexual bliss for a while and joins the celebration for the end of the Berlin Wall, but where he is going or even what he wants to do remain murky at the end — murkier, really than in the opening statement of a quest for "white boys who wanted to atone for Germany's crimes by loving a black boy like me." There are some lovely sentences but more than a few non-sequiturs such as "When a man is desperate for a compliment, it is the same as shooting a horse." And very, very frequent perplexing jump-cuts in a novel with no discernible structure.
---
Jacket author photo by Dominique Nabokov.
©2017, Stephen O. Murray
---