Out of the Past: The Struggle for Gay and Lesbian Rights in America
Written by 
Michelle Ferrari
Directed and Produced by Jeff Dupre
Premiered January 16, 1998 at the Sundance Film Festival
trailer • imdb • amazon
Review by Billy Glover
Submitted April 12, 2008
---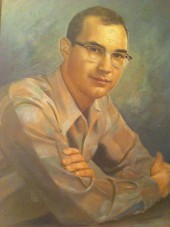 Of course I spend most of my time thinking about the homosexual movement, so it is not surprising that I keep finding things connected, so here I get to San Antonio and Ron Tate has just gotten a DVD called Out of the Past: The Struggle for Gay and Lesbian Rights in America and it has coverage of Bayard Rustin.
It was good on him, pointing out mostly how J. Edgar Hoover/FBI tried to destroy Dr. King by exposing Rustin's arrest/homosexuality. At first, Dr. King let him resign (partly due to A Philip Randolph I think it was), but he came back in time to attend the March on Washington.
I liked the plan of the documentary. It is wrapped around the young lesbian in Salt Lake City in I think 1993 or so who started the high school GSA group. And then pointed out — even though she was not aware of the early people, i.e. Henry Gerber, Barbara Gittings, and Frank Kameny, ending with the young teenager meeting Barbara and her lover, Kay Tobin Lahusen, as they are riding in a car in a pride parade (I assume in New York but it could have been the gay march in D.C.). But it seems that it would not have been the first one, so I was confused.
My usual complaint is that this is only an East-coast "production" even though the basic theme is the Salt Lake City teenage lesbian. It covers by mention only, as far as I can recall, the DOB. I don't think anything from Henry Gerber on really "happened" until the Daughters in the East, especially Gittings. I'm not sure it even mentions Kameny as being from Mattachine, but it sure never mentions Harry Hay et al., and never ONE, Incorporated.
What kind of a history ignores the very basic people and group that started a continuing movement?
I continue to have mixed emotions about the basic issue of this and almost all "histories" or biographies of homosexuals. I did not follow the usual trip apparently. I never sought out a book or worried about being the "only" one. Even at LSU I did not seek out more info — I just "got it" in the psychology class and did then wonder why sociology was not covering the issue. But why didn't the teenagers in 1993 have all the info they needed? Not in a Mormon library, perhaps, but LIFE had had Don Slater and Hal Call pictured as having run successful publications in their 1964 article, and even by the '80s most media coverage had stopped being so negative.
I was glad they covered Frank Kameny and Barbara Gittings getting the psychiatric issue covered, but intelligent people know that a lot of "education" including ONE magazine and ONE Institute, etc. had led up to that point.
---